AAPI Heritage Month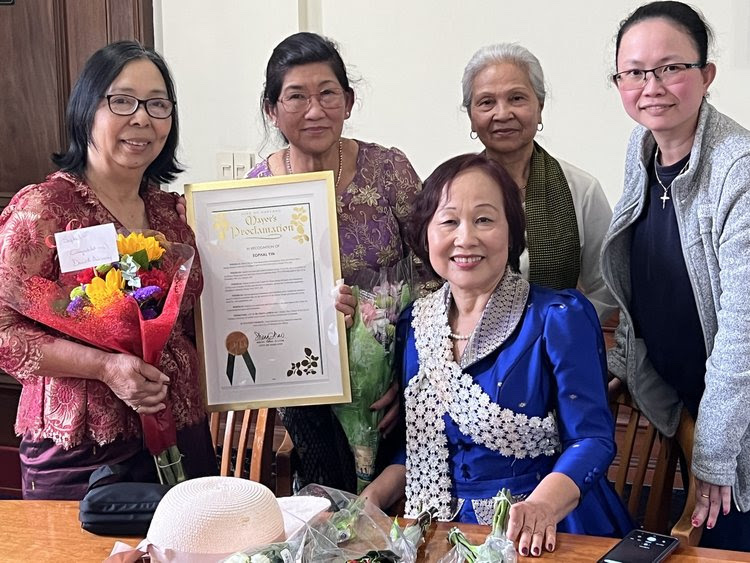 Mayor Shen Thao's office nominated CERI staff member Sophal Yin as an honoree for the AAPI Heritage Month for the City of Oakland. CERI mobilized 45 elders, youth, and families to stand by Sophal to recognize her leadership, advocacy, and dedication to the community.
Sophal is a genocide survivor. She resettled in the Bay Area in the 80s and as a single mother endured much violence and harassment. Through much adversity, Sophal earned her associate's degree and after being an interpreter for more than a decade, she joined CERI in 2017. Sophal was an integral force in the anti-deportation movement. She was one of the first interpreters to offer political education and mental health healing sessions in Khmer and English languages.
"Ming Sophal is my personal hero. She has been at the center of the Southeast Asian anti-deportation movement by helping with interpretation and community mobilizing. When we first gathered together at our center's living room floor with honorees like Rev Deb, Ming Sophal Yin helped create the first Khmer chant that was born that day. Bael Yung Prachang! Yung Chhneah. When we fight! we win! " – Elijah Chhum
Donate now!
www.cerieastbay.org
(510) 684-7386
Community Engagement and Development Director: Mona Afary
Mission
Our mission is to improve the social, emotional, psychological, economic, and physical health of refugees and immigrants
Begin to Build a Relationship
We know you care about where your money goes and how it is used. Connect with this organization's leadership in order to begin to build this important relationship. Your email will be sent directly to this organization's Director of Development and/or Executive Director.
As CERI's Community Programs Coordinator, I work with elders in weekly support groups, community service projects, and cultural field trips. CERI has been a healing place for me, as a survivor of the Khmer Rouge genocide, and years in refugee camps. Through helping to provide healing to the community, I have largely healed myself.
Uplifting Underprivileged Refugee Youth
Recognizing that trauma, suffered by adult refugees and immigrants who have lived through genocide and resettlement, is often passed down through generations, CERI developed a comprehensive array of youth programming.
The nonprofit's programming has ended the cycle of trauma for countless refugee and immigrant youths in the East Bay, and across generations, through its innovative and holistic approaches to healing.
You can support CERI's work to heal generational trauma in many ways:
–$100: supplies CERI's youth after-school program with three volunteer tutors, and snacks for afternoon programming for one month.  
–$500: provides for two outdoor experiences for CERI's Youth Green Jobs program.
– $1,000: provides two months of trauma-informed weekly group therapy for survivors of trauma and violence.
–$5,000: helps provide for case management and mental health provision for the Afghan refugee community, and funds utility and food subsidies. 
Key Supporters
The William and Flora Hewlett
Foundation
Alameda County Behavioral Health
Care Services
New Breath Foundation
Rippleworks
Magic Cabinet
Devata Giving Circle
Kaiser Permanente
Korean Community Center
of the East Bay
Asian Health Services
Archstone Foundation
Asian Law Caucus
Sierra Foundation
Golden Gate National Parks
Conservancy
California Arts Council