Rhea Suh: Upholding Democracy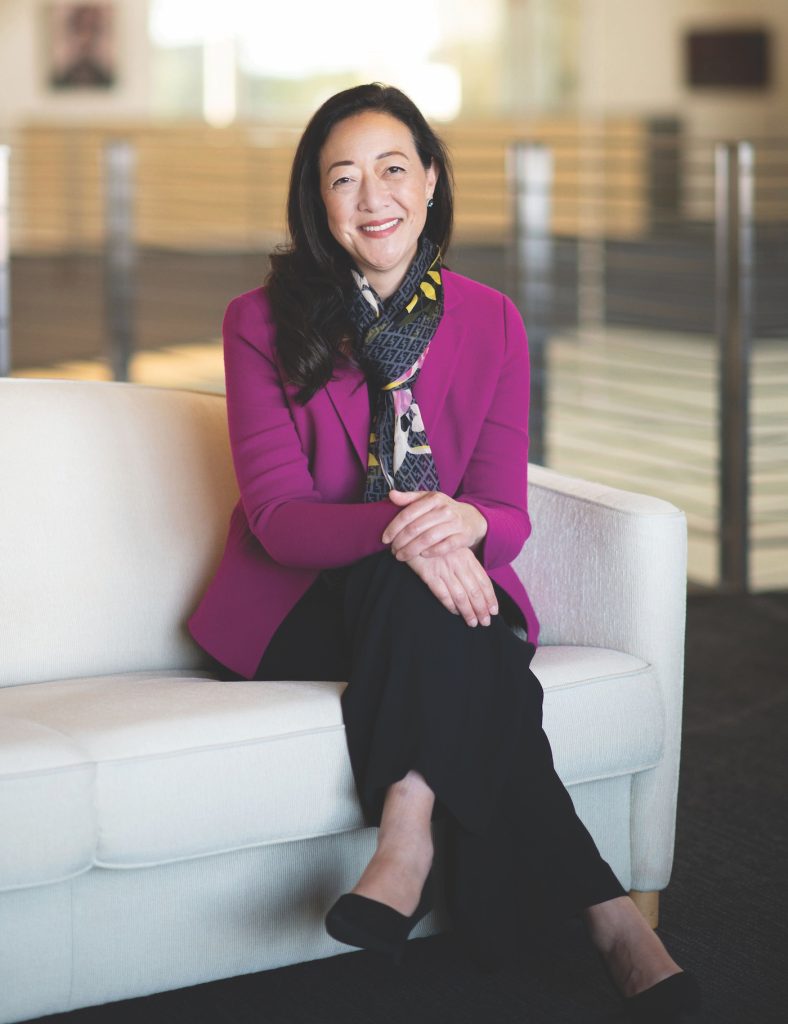 When we at The Giving List spoke with Rhea Suh last year ("Bringing Environmental Justice Home"), she had just taken the helm as President and CEO of the Marin Community Foundation after leading the Natural Resources Defense Council in New York and serving in the Department of the Interior for the Obama Administration.
This year she settled into life in Marin County, where she regularly sports a Golden State Warriors jacket. "I relinquished my allegiance to the Brooklyn Nets," she jokes.
With its nationally treasured landscape, Marin County is a dream locale for the environmentalist to take her "doodle mix" named Woody on daily walks. "My dog is still levitating because he's like: There's trees! There's grass!"
But bucolic Marin County aside, Suh has her eyes set on making this community a stronger, more unified place.
Q. You are more than a year in your role now. How are you enjoying the job?
A. I don't think I could love it more than I do. While I feel so honored to have had all the different kinds of experiences I've had in my career, the higher I progressed, the more I had to focus on national and international issues.
While that is incredibly important, I began to feel removed from the very things that drove me to work in nonprofit organizations. In coming to the Marin Community Foundation, part of what is such a joy and a privilege, is that I am more proximate to the issues – and the solutions.
Q. Great. Can you share an example?
A. We have a pilot project called MOMentum where we are providing low-income moms of color in the county with $1,000 a month and evaluating the difference that makes in their lives. It not only illustrates the opportunity we have in co-designing solutions with the community, but in testing high-potential projects that we could then take to scale, and, ideally effect policy change. (Read more on page 28.)
Q. You initiated a strategic planning process at the foundation. What are the takeaways so far?
A. The strategic planning process has many parts, but one part is to identify big ideas that we as an institution would lean in on.
At the top of the list from a local perspective: affordable housing in Marin County and climate justice initiatives, both for Marin County, as well as for the Bay Area broadly, likely in partnership with sister foundations.
And I think there are two broad overarching issues: racial inequities and how democracy can be upheld. As a community foundation, we can seed more authority over priorities and issues to communities themselves to really infuse democracy and ensure the basic functioning of our society.
Q. Funders are responding to monstrous issues: Ukraine, reproductive rights, gun violence, and the list goes on. How are you trying to keep the foundation and DAF holders focused on climate justice?
A. Climate threats are adding up, and they're adding up quickly. One of the things that's obvious – that, frankly, the climate prediction models have always pointed to – is that the most vulnerable communities are going to be the most affected by climate change.
In Marin County, there are communities like Marin City that have always dealt with vast inequities. And Marin City already floods. When there's a king tide, it's cut off completely from the rest of the county. That whole corridor is going to have to be repaired in some way.
Knowing that we are likely going to get major infusions of climate adaptation funds from the government, how can we ensure those funds are utilized in a way that truly protects the interests of a community like Marin City? Part of the challenge is: Even if the money is available, are the communities equipped to get that money?
Filling in that gap role is a great example of where community foundations can make a big impact.