CEID Expands Access to Family Signing Exact English (See) Classes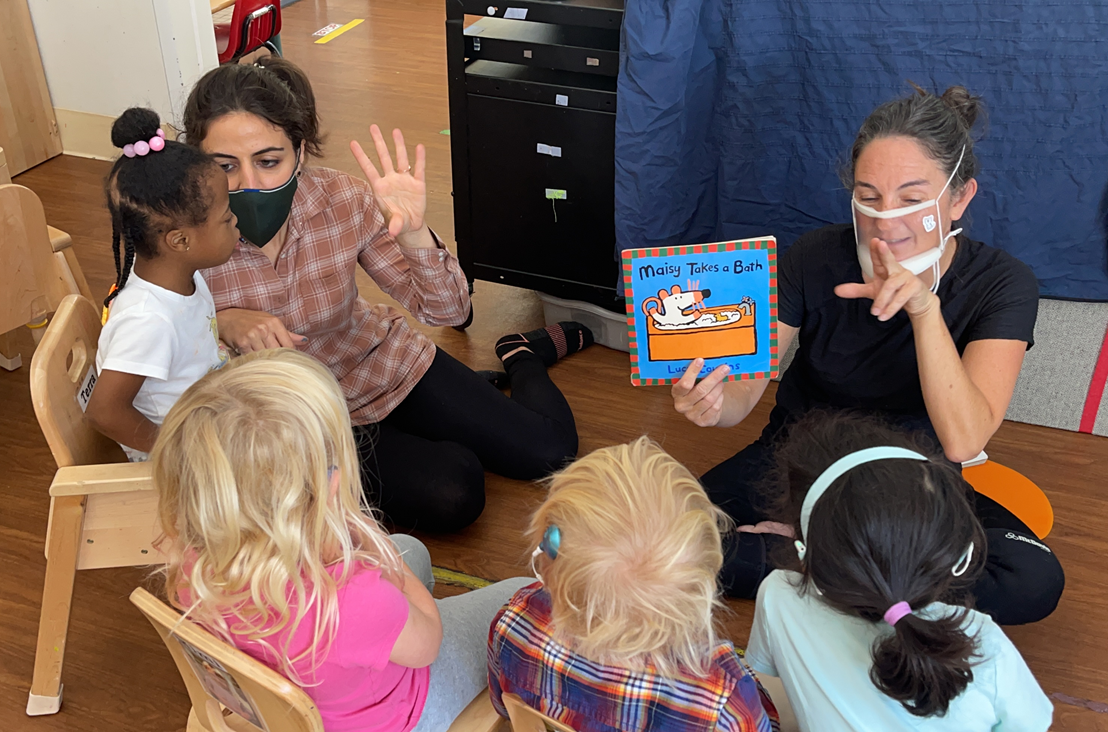 The lingering COVID-19 pandemic has required agencies across the health care spectrum to review their service-delivery models to ensure they can keep up with their clients' evolving needs. Innovations implemented by the Center for Early Intervention on Deafness' (CEID) have taken that one step further, as the agency by shifting its Family Signing Exact English (SEE) classes to online exclusively has markedly increased the number of parents and family members of deaf and hard-of-hearing (D/HH) children accessing this valuable language development and communication curriculum.
Previously offered once weekly at CEID's Berkeley facility, Family SEE is now available twice per week online, its standard 10 a.m. Monday session now augmented by a 6 p.m. Monday class that is ideal for working parents. The 11-week course of hour-long sessions reflects CEID's ongoing commitment to intensive language development and parent engagement to empower families with D/HH children to support the increasingly complex use of spoken language, sign language and social interaction.
Family SEE achieves this goal through a Total Communication approach that incorporates the simultaneous use of SEE and spoken English to enable D/HH children and families to communicate more fully between themselves and with others. Well documented as the foundation for all other areas of development, early language access is a primary focus for young children attending CEID, particularly those who are D/HH. Signing classes provide strategies and skills to support language use and growth; presenting them online makes it easier for everyone in the family to participate and develop these tools.
Instructor Shawn Renee' Robinson, a CEID Home Visit Specialist and Teacher of the Deaf, has seen firsthand the classes' impact. She notes that the family class curriculum incorporates songs utilized in CEID's children classes, which gives parents access to the same vocabulary their children are getting. One day she received an email from a mother who told her how excited her son was when she played and signed the song he recognized from school.
"That's what signing does for these families that come to the classes – it gives the kids the opportunity to see their parents are also learning," Robinson said. "And with the sessions online, anybody can jump in. The pandemic has led to an innovation that enables the program to impact more people."
Family SEE classes are open to all, although prior registration is required, and all family members – including siblings, aunts, uncles and grandparents – are encouraged to attend. Families can access the class from any computer. For more information or to register, please email shawnrenee@ceid.org or call (510) 848-4800, Ext 321.

About CEID
Established in 1980, Center for Early Intervention on Deafness (CEID) is a non-profit organization dedicated to giving everyone the chance to reach their full potential through early education and family support services for families with young children who are Deaf or Hard of Hearing and through audiology services for people of all ages and all income levels. Early intervention services include home visits, parent education and support, preschool classes, inclusive childcare, Deaf Mentors and pediatric audiology.
Donate now!
Cultivate Joy: Support Communication and Connection for ALL
A donation to CEID gives everyone the opportunity to reach their full potential through early education and support for families with young children who are deaf or hard of hearing and through audiology healthcare for people of all ages and all income levels.
$2,500 To Reduce Isolation:
Hearing Aid for a child or adult in need
$1,000 To Build Peer Support:
One month of family sign language classes and workshops
$500 To Increase Language:
One month of speech and language therapy
Connect & Advocate. Learn more about hearing differences so you can be an ally in the community for access and equity. Contact georgina@ceid.org for learning opportunities, other giving levels, or to visit our Center.
Mission
CEID's mission is to maximize the communication potential of children and adults who are Deaf or Hard of Hearing through early education, family support, and community audiology services.
We strive to create a diverse, inclusive, and educationally rich environment in order to empower families with the academic and social tools needed to reach their full potential.
www.ceid.org
(510) 848-4800 x301
Executive Director: Cindy Dickeson, MSW
Begin to Build a Relationship
We know you care about where your money goes and how it is used. Connect with this organization's leadership in order to begin to build this important relationship. Your email will be sent directly to this organization's Director of Development and/or Executive Director.
I was introduced to CEID by Founder Jill Ellis and during my first visit I could see and feel the importance of the work being done. I wanted our Family Foundation to get involved even though the needs of people who are deaf and hard of hearing were not familiar to me. Early education was one of our focuses and when I realized that CEID offered families invaluable resources and support during a challenging time while also giving their children high quality early education, I knew we would be a great match. By supporting a small organization, I feel the impact of our investment even more. Please find time to visit and see the tremendous work and positive difference that will change your perspective too!
Key Supporters
Bernard E. & Alba Witkin Charitable Foundation
Callison Foundation
Frank A. Campini Foundation
George H. Sandy Foundation
Louis L. Borick Foundation
Quest Foundation
Zalec Familian and Lilian Levinson Foundation
Brian Atwater & Frances De Marco
Victoria & Todd Carlisle
Karen Dempsey & Brian Fraser
Jill & Jim Ellis
Mary & Stanley Friedman
Eric & Linda Horodas
Andrew Huang & Elaine Tseng
Sukey Lilienthal & David Roe
Leonard Machado
Dr. Anna Meyer
Helen & John Meyer
Kenneth & Frances Reid
Alicia Schmidt & Shannon Mitchell
Liliane & Edward Schneider
Rosalie & Peter Streett
Bruce & Irmgard Willock