Come to the Conversation Curious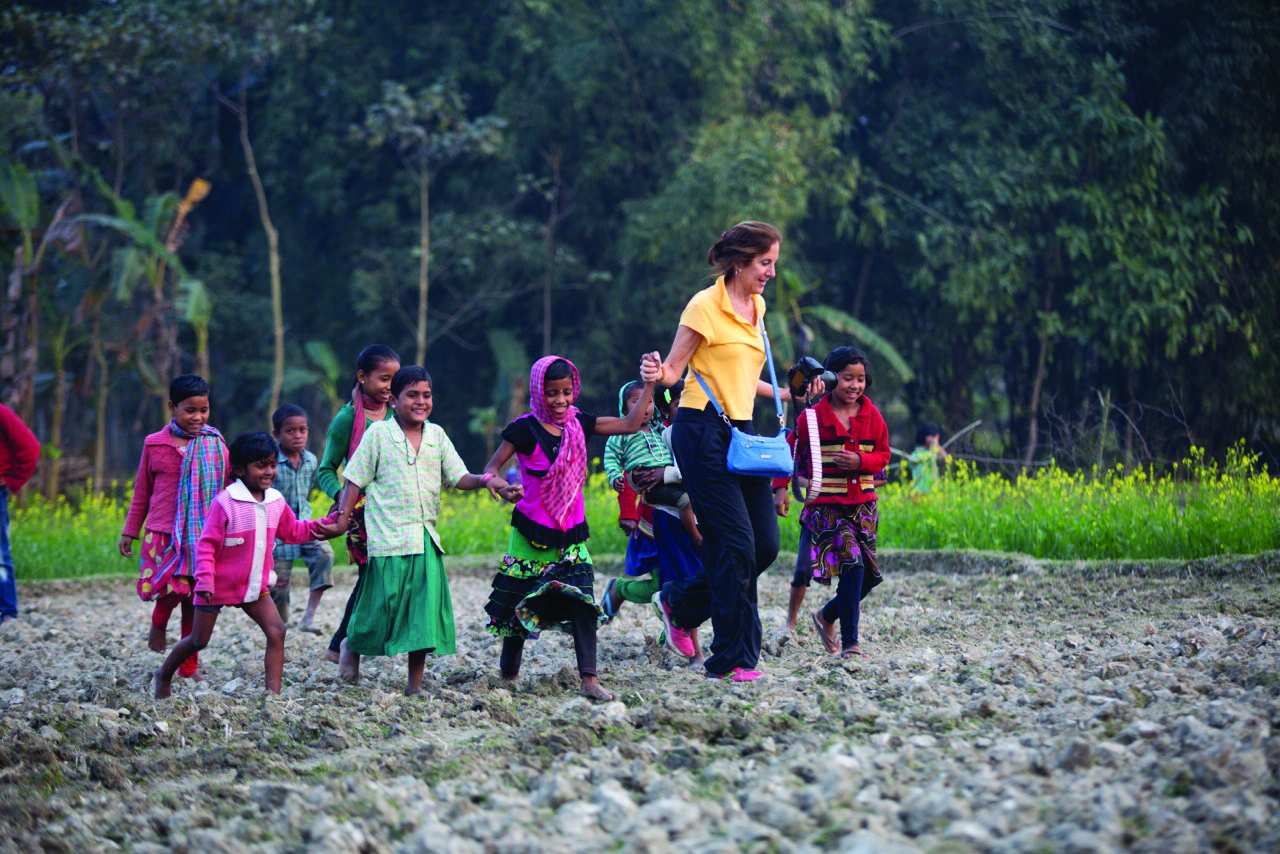 "Come to the conversation curious."
If Emily Scott has a mantra, this is it. No matter what she is doing, the San Francisco-based philanthropist and financial advisor leans into the wisdom of curiosity and growth. Whenever she is faced with a thorny problem, or even an exciting opportunity, she digs into her toolkit of inquiry to figure out what to do next.
"Ask questions. Ask more questions. Challenge yourself and your perceptions," Scott says.
Scott, who has served on the boards of KQED, the San Francisco AIDS Foundation, and Fostering Media Connections, inhabits a unique place in the Bay Area's nonprofit ecosystem. A former Wall Street executive, she shifted her priorities to philanthropy during her marriage to Charles Schwab CEO David Pottruck.
From 1994 to 2014, she was president of the Pottruck Family Foundation, whose mission was to improve the lives of disadvantaged youth and to support volunteer-driven organizations in the Bay Area. After the marriage ended, she began a financial consulting firm — Emily Scott AND — designed to help families with means gain clarity about the "story" of their money. What stories, for instance, did their giving choices tell? And how could they align their personal, financial, and philanthropic journeys?
Scott's latest major philanthropic endeavor is her support of the Courage Museum – a major project of the San Francisco-based Futures Without Violence. The museum, which will open in 2022, is "designed to build a world in which violence is not an inevitable condition of the human experience," according to the initiative's website.
"The cause speaks to my soul," Scott says. "And the name is perfect, the Courage Museum, courage in the face of violence."
Below, Emily Scott shares her roadmap for living an effective, authentic, and productive life as a philanthropist, no matter your level of giving.
Follow Your Curiosity
It seems simple enough, but there are roadblocks aplenty for busy people looking to learn and grow. "So many things stop people from following their curiosity," Scott says. "People are very busy, they have multiple projects, and frankly, they can get tired of being asked for money. All that can contribute to a kind of shutting down."
Part of engaging one's curiosity is staying humble, and assuming there is much to learn, even in a field — or an organization — that one knows well. "I always try to entertain the notion that I don't know what I don't know, and there might be something new to learn at each and every event I attend."
As part of her turbo-charged bias toward curiosity, Scott developed a focus of inquiry for each of the last three decades, what she called "Decade Dares." At 40, she got on a bike for the first time in years to raise money for the San Francisco-to-Los Angeles AIDS ride. At 50, a growing interest in animals led her to write the book Tails of Devotion, A Look at the Bond Between People and Their Pets; she sold 10,000 copies, and gave all the proceeds to animal welfare groups. At 60 she walked the Camino de Santiago pilgrimage route in Spain, during which she raised money for racial justice initiatives in the United States.
Do What You Can
In 2011, in response to the unprecedented scale of wartime rapes in the Democratic Republic of Congo, Nobel Prize Winner Dr. Denis Mukwege co-founded a sanctuary for women with playwright Eve Ensler (now known as V) and Christine Schuler Deschryver. Already a board member of Ensler's nonprofit, V-Day, not only did Scott visit the sanctuary, called City of Joy, but funded it herself and encouraged her peers to join her.
During her visit, Scott had to push through her own trauma related to sexual violence, and go "far outside my comfort zone," she says. The Congolese girls and women being treated for trauma, along with the Congolese women who run the program, inspired her to do everything she could to help. As she was told by one of the staff, who saw many well-meaning Westerners come and go: "Do not come here and do nothing."
Scott did as much as she could, including delivering a Tedx Talk in Sonoma bringing awareness to the issue. And yet, she felt she had bitten off more than she could chew.
"After the second visit to City of Joy, I felt utterly depleted and overwhelmed," Scott says with characteristic honesty. "And I realized that if I wanted to help, I needed to find a balanced way of doing so. I can't help others accomplish their goals if my energy level is zero."
"I had to do something, but not everything," Scott says.
She now tries to apply this lesson to everyday giving, both for herself and for those she advises.
"All too often the world of philanthropy can be very judgmental. We might feel, or be told, that we're not doing the right kind of investing, or not dealing enough with the root causes of a problem," Scott says. "But not everyone can be in the deep end of the [philanthropic] pool, at least not all the time, and not with all the issues. My hope is that we can all at least get in the pool, and swim wherever we can. We should feel good about helping feed people on a Saturday morning, say, even if that's not changing the root cause of food insecurity."
Her advice to others? "Do whatever you can. When possible, do more."
Partnership is Paramount
For Scott, partnership is both a strategic necessity, and a way of staying inspired and energized. How does she know when a partnership is working personally? "When I'm with them, I feel more creative, smarter, and ultimately more philanthropic," she says. "I go right into a place of abundance."
Scott has found that partnerships accelerate learning, and save time for funders as well as nonprofit leaders. An example is the Park City Community Foundation in Utah, which Scott helped create, and on whose board she served as Vice Chairperson. "We keep discovering that it's really hard to be an executive of a community organization and not have true mentorship, or space to dialogue with other executive directors," Scott says. "We were able to create avenues for that through the foundation. And because of that, I understood better the role that a funder can play."
Another example is Scott's immersion in The Philanthropy Workshop, a global network of leaders designed to help funders learn, grow, and partner as strategically as possible. As part of her year of study, she worked with other fellows to develop a new approach to increase the number of former foster youth pursuing a college degree. This led to the California College Pathways Initiative, a public-private program supporting foster students.
Her work with the Pottruck Family Foundation led her to another insight – that nonprofits spend an inordinate amount of time applying for one-year grants.
"We and other funders began to move to more multi-year grants," Scott says. This, Scott says, allowed nonprofits to "feel more secure in their existence, and not just need to fundraise just to stay alive."
And yet, it's easy for funders to believe that their partnerships with organizations are fully equal. Through one of her foundations, Scott had a bracing conversation with a nonprofit leader who reminded her that "we can take away our check anytime. That honesty changed my appreciation of how we communicate and partner with nonprofits."
The Brilliance of the AND
It's no coincidence that Scott's financial navigation business is called Emily Scott AND.
"I was a convert when I first heard business guru Jim Collins talk about the brilliance of the AND vs. the tyranny of the OR," Scott says.
In her consulting work, Scott uses the AND to help people connect the heart and the head. Figuring out how to give, she says, is a combination of data and emotion.
"For philanthropists, this can mean holding multiple truths," she says. "One truth can be that scarcity exists in the world, and the other truth can be that you live comfortably. It's okay for both things to be true at the same time."
The AND also creates space to dig deeply into another person's distinct – even contradictory – experience, while still holding onto your values and mission.
"There is a lot of maturity involved in hearing another's perspective, and finding ways to build on it, as opposed to always pushing back on it," Scott says. When a funder can listen and lead at the same time, "that's when transformation can happen."