Letting the Body Come to Life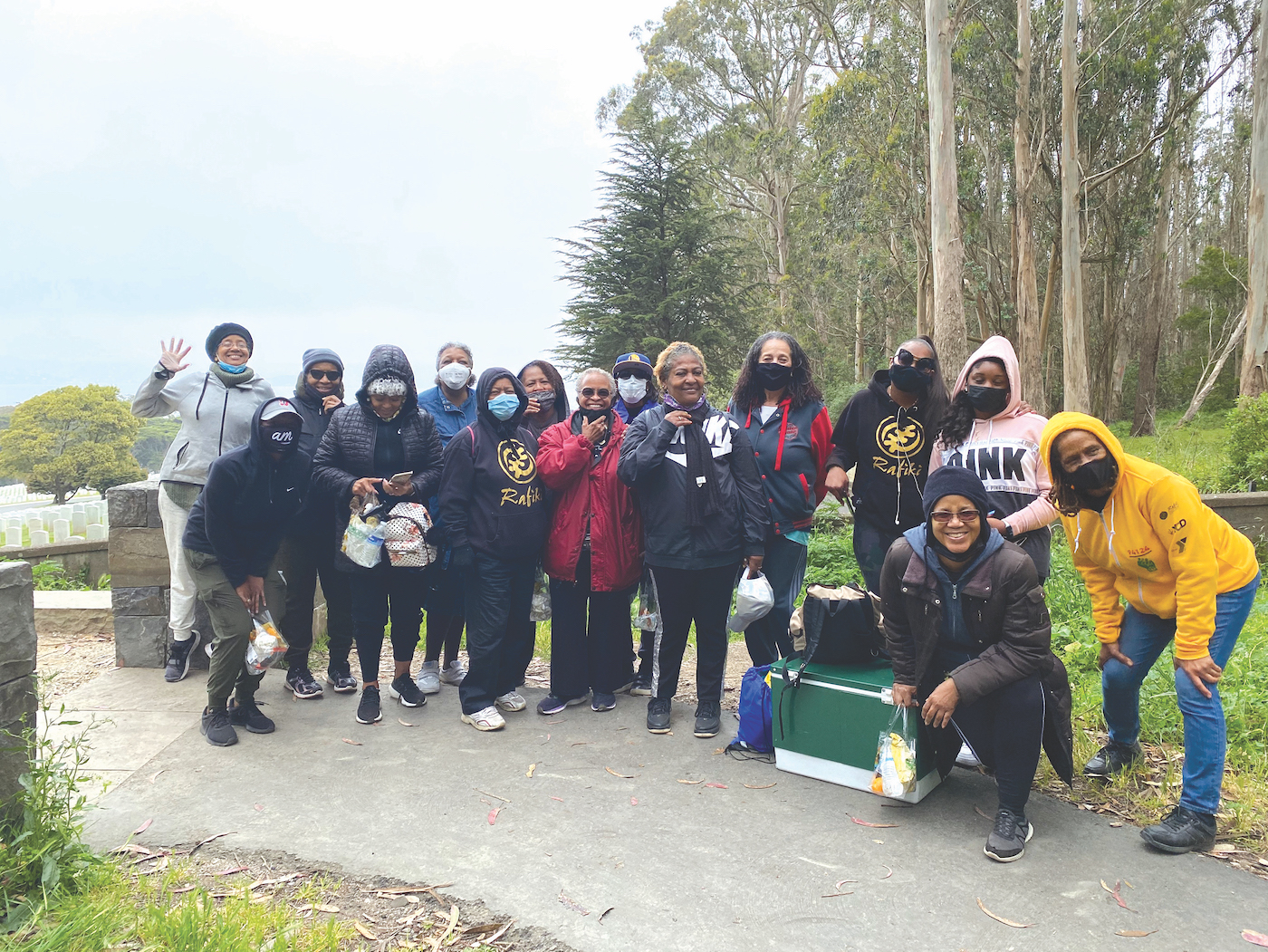 Medicine often starts with a story. And the story Dr. Monique LeSarre tells about health and San Francisco's African-American community is bracing: "The system is designed to make us sick."
Dr. LeSarre runs the Rafiki Coalition for Health and Wellness, a grassroots hub designed to meet the needs of San Francisco's dwindling Black community. Rafiki began in 1986 as the Black Coalition on AIDS, in response to the stark health inequities African Americans with HIV/AIDS faced. The coalition has since expanded its mission to address the web of racial health equity issues that collectively depress the quality of life for the city's Black community.
According to Dr. LeSarre, District 10 – which includes the neighborhood of Bayview-Hunters Point, and where the majority of the city's African-American residents live – has no full-service grocery store. The area's historic shipyards are also a toxic superfund site, with "continuing, generational impacts from carcinogens and radiation still finding its way into the soil and pavement." Is it any wonder that the district, where Rafiki's office is located, "has the worst birth outcomes outside of rural Alabama?"
Last year, Rafiki served more than 4,000 people through its network of therapists and practitioners, including acupuncture, dance, and mental health counseling. This trusted coalition was one reason UCSF's hospital partnered with Rafiki to model collaborations "built on trust and understanding arising from respectful dialogue between community knowledge holders and institutional service providers," according to UCSF's Precision Medicine website.
The wounds and distrust, however, run deep. And generational traumas – both social and medical — cannot be solved with a pill. The response to this systematic assault on African-American health, says Dr. LeSarre, has to be another system – of health and wellness, designed to foster trust. For that reason, Rafiki is doubling down on their network approach to community health, looking to expand their complementary alternative medicine clinic as well as all other wellness and healing services. The goal, funding permitting, is to create an app that gives users easy access to services and resources designed specifically for them.
Despite the seeming intractability of the problem, Rafiki's orientation is one of joy and hope. An example is a dance wellness class taught by Farcia De'toles-Medearis, who combines western dance and yoga techniques with a healing ethos from her native Liberia.
"I know what I have seen in the transformation of body and soul," De'toles-Medearis says about the experience of her students. When health and freedom come together, "we can let the body come to life."
Donate now!
www.rafikicoalition.org
(415) 615 9945
Dr. Monique LeSarre
Mission
Rafiki Coalition's mission is to eliminate health inequities in San Francisco's Black and marginalized communities through education, advocacy, and by providing holistic health and wellness services in a culturally affirming environment.
Begin to Build a Relationship
We know you care about where your money goes and how it is used. Connect with this organization's leadership in order to begin to build this important relationship. Your email will be sent directly to this organization's Director of Development and/or Executive Director.
At a time when daily life has become a struggle for many of us, those with mental health challenges often face serious obstacles to getting care, especially for Black, Indigenous, and People of Color. The Rafiki Coalition for Health and Wellness is the oasis for mental, physical, and cultural well-being, their person-centered, culturally-responsive services are the needed balm for individuals, families, and the community.
Help Meet a Consuming Need
Rafiki offers free community mental health services to children, adults, and families.
With long waiting lists, underserved San Franciscans are being denied treatment during a moment of expanding need.
With suicide now the second leading cause of death among Black children and youth, the Rafiki Coalition for Health and Wellness is looking for a transformational gift of $500,000 to hire additional culturally qualified therapists.
Rafiki's long-term goal is to secure an endowment to provide consistent, stable mental health care to the community.
In addition, Rafiki is looking to acquire new laptops to coordinate care, and record and share data with clients and partners (about $10,000).
Key Supporters
Reverend Dr. Carolyn Scott
Shannell Williams
Shirley Strong
Dr. Mark Gaines
Lisa Williams
Rachel Bryant
Dr. Kim Rhoads
Dr. Joy DeGruy
Kaiser Permanente
San Francisco Department of
Public Health
UCSF
San Francisco AIDS Foundation
Mental Health Services Act
SF Human Rights Commission
YMCA
HOPE SF
Mayor's Office of Housing and
Community development
Bayview-Hunters Point 3rd Street
Youth Center and Clinic
Collective Impact
YCD
Stupski Foundation
Crankstart
Chan Zuckerberg Institute
Sierra Health Foundation