Youth Speaks Develops a New Generation of Voices for Bold Change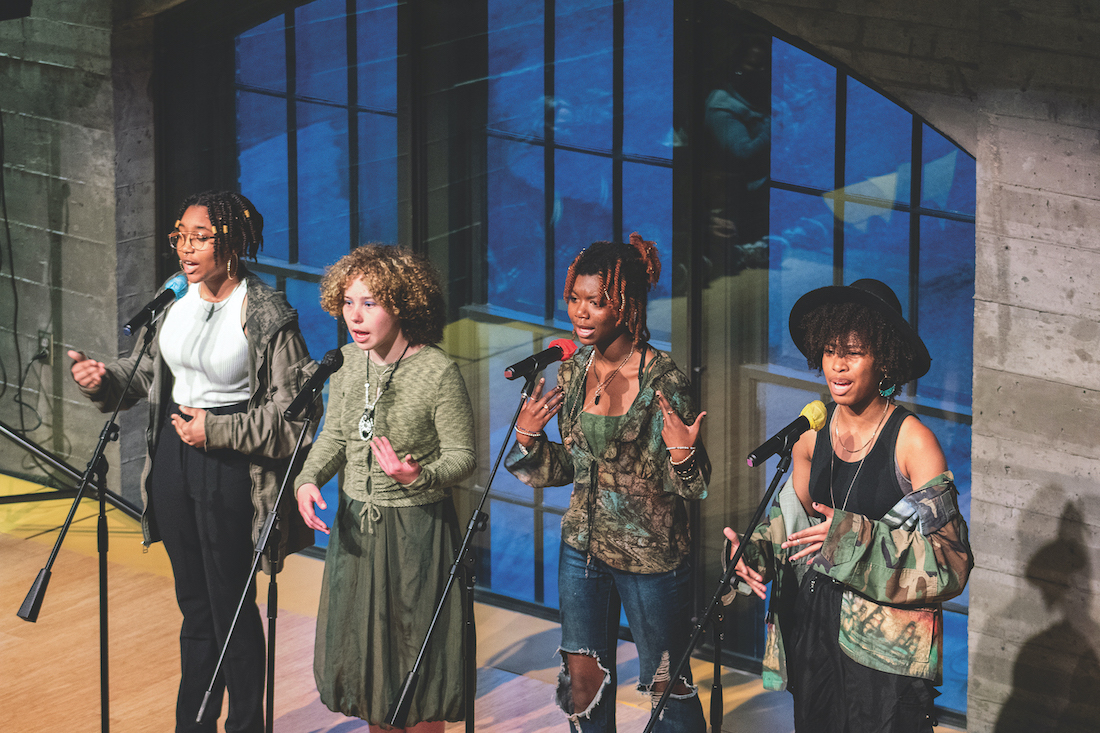 "It's not the thoughts or the prayers.
It's the actions
It's how we stared down the barrel. Stared until
the barrel lowered until the kill counts
flew up and away.
Stared until the guns were put down…"
-From the poem "Futurescapes" about a future without gun violence. By Youth Speaks poet Jasmine Kapadia
Young people want more. They don't just want to find their voice, they want to use that voice to make real, tangible change in the world.
Youth Speaks, a leader in youth art, civic and cultural education, and performance for over 25 years, is meeting this need by not only helping young people find and develop their artistic voice as writers, artists, and public speakers, but by also applying that voice to changing the public narrative. Their new innovative Power Lab program will pair young artists with researchers, movement organizers, and media partners to create artist-centered stories and solutions grounded in systems-change that will have far-reaching impacts.
"We see young people apply their voices in ways that are unlike any time before in history – shaping public discourse and expanding political will," says Michelle "Mush" Lee, executive director of Youth Speaks. "It no longer takes years for a younger person in these times to realize that their ideas and voice can impact hundreds, thousands, and potentially millions, if you go viral."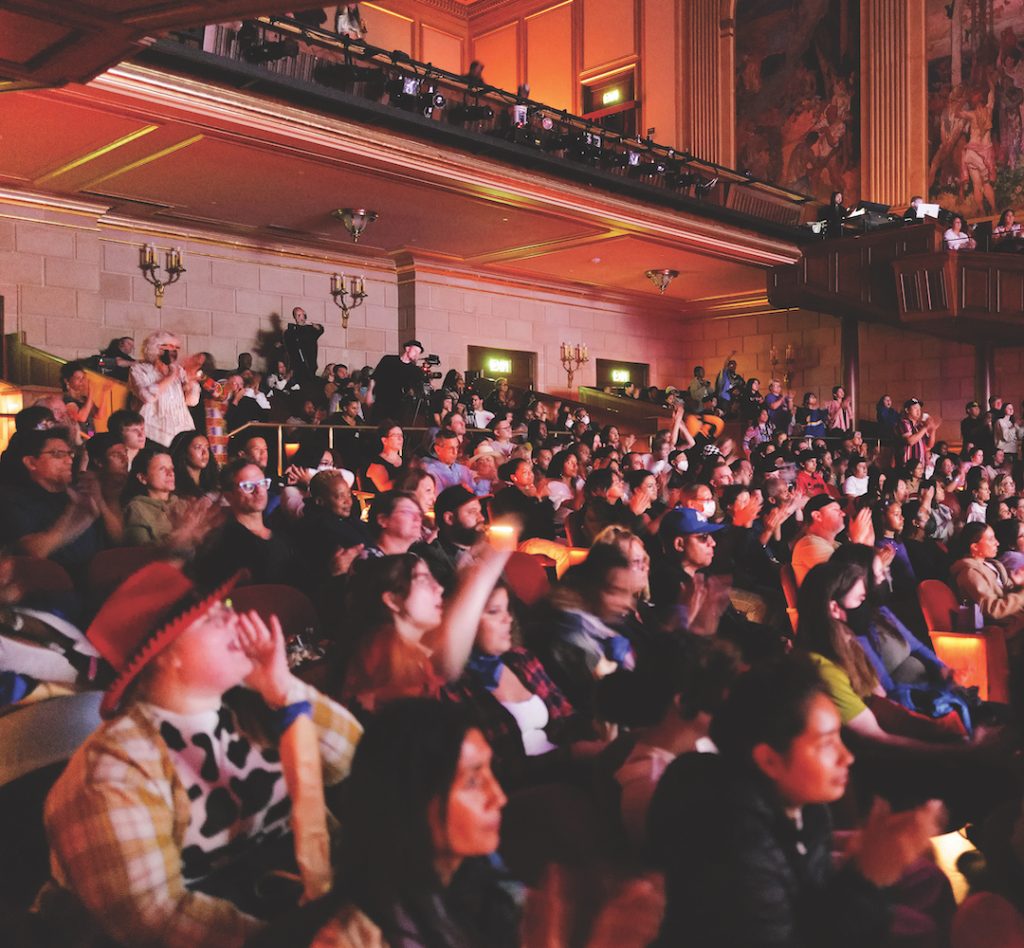 Youth Speaks has been one of the largest nonprofit organizations supporting youth poetry. Serving over 7,500 students annually in the Bay Area and 200,000 arts audiences virtually, their flagship Brave New Voices Youth Poetry Festival has been featured on HBO and their arts-based, public health models have been recognized by the World Health Organization and the National Institutes of Health.
Youth Speaks artists have leveraged culture and narrative-driven strategies to shift national conversation on youth incarceration, affordable housing, environmental justice, and health inequities and spurred changes in state policy. Their collaboration on an article on public housing in Richmond, California, with the Center for Investigative Reporting (now known as Reveal News), led to features on PBS NewsHour, in the San Francisco Chronicle, and eventually led to the closure and renovation of what was deemed one of the most decrepit housing projects in the nation. Their long-standing collaboration with University of California San Francisco's Center for Vulnerable Populations has brought national awareness to the causes of health inequities like Type II Diabetes and led to prominent stories in The New York Times and The Journal of the American Medical Association.
Youth Speaks' goal is bold: To create opportunities for youth to study public stories of today and speak on the issues that matter to our future – racial equity, ethics and AI, mental health, social media, and climate justice. And it's never been more crucial as they are painfully aware of current trends censoring the young and people of color.
"Our job at Youth Speaks is to make sure that the histories of Black, Indigenous, Latine, Asian American, Pacific Islander, Arab people's survival and resilience that are being systematically banned in schools and libraries across this country are never silenced, censored, erased, or that we never apologize for creating a space where young people of every walk of life can explore their own stories with remarkable truth and hope for a world none of us has seen but dream of," says Lee. "To build a truly inclusive world is to build a world that is also shaped by young people."
Donate now!
www.youthspeaks.org
415-255-9035
Executive Director: Michelle "Mush" Lee
Mission
We create spaces that challenge youth to amplify their voices as creators of societal change.
Begin to Build a Relationship
We know you care about where your money goes and how it is used. Connect with this organization's leadership in order to begin to build this important relationship. Your email will be sent directly to this organization's Director of Development and/or Executive Director.
There could not be a better time for Youth Speaks to expand its vision, wisdom, and innovation to the evolving task of building power for the next generation. I have been blessed to see Youth Speaks work to inspire and catalyze young minds to bring truth, beauty, and wonder into a world in need. Times have changed, but the urgency of Youth Speaks' mission has not."
Powering Up the Voices of Youth
Youth Speaks has been encouraging young people to use poetry, stories, art, and their voices to drive political change and justice for over 25 years.
Their innovative program, Power Lab, will pair 20 young poets, writers, and culture-bearers with movement partners to continue to impact our culture in substantial ways. Youth Speaks needs only 40% of its seed fund, a remaining $2 million, to support its Power Lab artistic fellowships over two years and $250,000 to continue their mission of amplifying young voices.
Key Supporters
Battery Powered
California Arts Council
Emily Leys and Gene Chung
Crankstart
Golden State Warriors
Hellman Foundation
Barbara and Amos Hostetter
Lemonade
Mission Economic
Development Agency
National Endowment for the Arts
Jenny Fan Raj and Nehal Raj
San Francisco Department
of Children,
Youth & Their Families
San Francisco Grants for the Arts
The Center for Cultural Power
The John D. and Catherine T.
MacArthur Foundation
The Morgan Plouffe Family
The Robert and Michelle
Philanthropic Fund
Universal Music Group,
Taskforce for Meaningful Change