Celebrate National Foster Care Month with JBAY & Author David Ambroz on May 25th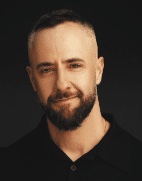 May is Foster Care Awareness Month and John Burton Advocates for Youth is delighted to be celebrating it with a special event featuring David Ambroz, former foster youth, advocate and author of A Place Called Home.
On Tuesday, May 25th, JBAY Executive Director Amy Lemley will interview David at the Commonwealth Club in downtown San Francisco to discuss his book and the state of foster care in California and nationally.
A Place Called Home features David's experience of homelessness as a child and later in foster care. He describes walking the streets seeking shelter while his mother is battling mental illness. Once in foster care, he is moved from home to home and, in all but one placement, he's abused. And throughout his experience, his sexuality is rejected and ridiculed.
According to Amy, David's book has a lot to teach us. "David really brings us into his world as a child and makes us feel his fear, powerlessness and confusion. It's also filled with great insights about the ways, both large and small, we make it hard for young people."
David's book has been a success, receiving acclaim from both the literary world and policy makers, including Hillary Rodham Clinton. "It's impossible to read A Place Called Home and not want to redouble your efforts to fight the systems of poverty that have plagued America for far too long. In this book, David shares his deeply personal story and issues a rousing call to make this a more humane and compassionate nation."
While in foster care, David remained committed to education, even when adults in his life discouraged him. He finished high school in Spain and then attended Vassar College, followed by law school at UCLA. He currently serves as the Head of Community Engagement (West) for Amazon and formerly led Corporate Social Responsibility for Walt Disney Television.
Amy is looking forward to her conversation with David on May 25th. "David is exceptional, but it would be a mistake to read his book and think that what he has achieved is beyond the reach of every young person in foster care. His story reminds us we have to keep working to ensure all foster youth get what they deserve: compassion, love and an opportunity to live a satisfying, economically secure adulthood."
The program will start at 6:00 p.m. followed by a reception at 7:00 p.m. For more information and to register for the event, follow this link.
Donate now!
www.jbay.org
(415) 348-0011
Development Associate: Jeffrey Lee
Mission
John Burton Advocates for Youth improves the quality of life for youth in California who have been in foster care or homeless by advocating for better laws, training communities to strengthen local practices and conducting research to inform policy solutions.
Begin to Build a Relationship
We know you care about where your money goes and how it is used. Connect with this organization's leadership in order to begin to build this important relationship. Your email will be sent directly to this organization's Director of Development and/or Executive Director.
I am very grateful to have access to a foster youth program at UC Berkeley, which helps me stay on track, even when times get tough. Thanks to JBAY, foster youth across California will receive more of the support we need.
John Burton Turns 90, Celebrate His Legacy
JBAY is launching a tribute fund in honor of the legacy of John Burton, who dedicated his life to serving those most in need. In the short term, the fund will be used to give foster youth, who were hurt financially by the pandemic, the resources to get back on track, including helping them attain a college degree. Through JBAY's legislative efforts, the amount of foster youth enrolled in community college has skyrocketed from 26,000 five years ago to 42,000 today.
"Let's not lose faith; positive change is happening every day," says Amy Lemley, JBAY's executive director. "We are launching the most vulnerable young people into an economy where they are going to create a life for themselves."
Key Supporters
Alice Suet Yee Barkley
Angell Foundation
Bluebird Legacy
Carmen and Greg Castro-Franceschi
Carrie Estelle Doheny Foundation
College Futures Foundation
Conrad N. Hilton Foundation
Donna and Greg Lucas
First Republic Bank
Help for Children
Kaiser Permanente
Melanie and Larry Blum
National Center for Youth Law
Pat and Jerome Dodson
Pinpoint Foundation
Rick Mariano and Katherine Feinstein
Stupski Foundation
Silicon Valley Community Foundation
Tahbazof Family Foundation
The Harry and Jeanette Weinberg
Foundation
Thomas and Salma Haider
Tipping Point Community
United Ways California
Walter S. Johnson Foundation