SFYS @ School: Free Recess, Lunch or After School Soccer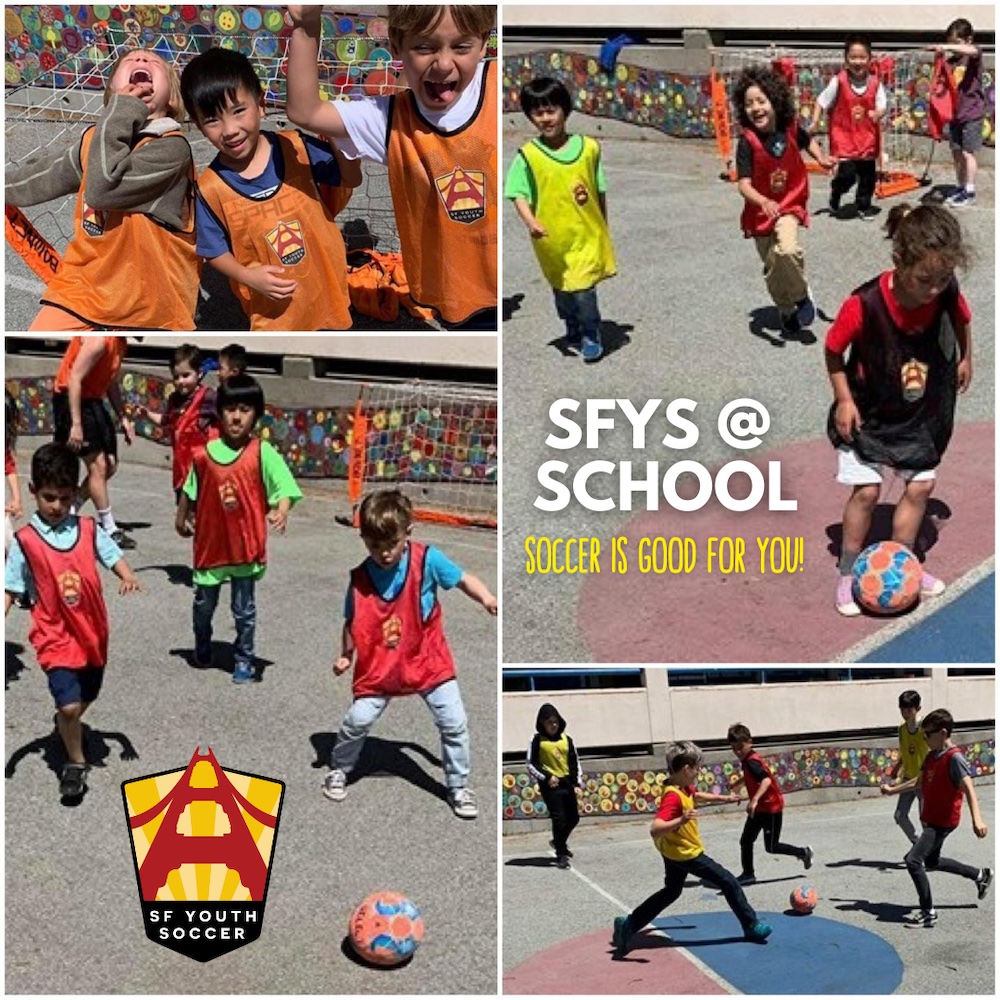 All kids deserve the ability to play soccer. The mission of San Francisco Youth Soccer is to support youth soccer and leadership through sport. We understand that successful youth sports requires a solid foundation, with a connected community and effective network of integrated programming.
SFYS @ School is a free lunch and/or after school soccer program, fully subsidized by donors and staffed by paid coaches from partner soccer clubs and SFYS Jr. Coaches. The school partnerships align a common goal of engaging the youth in healthy activity and competition. We take pick-up soccer to school yards during lunch and after school hours to provide a structured activity solution, and to help children experience the game in a fun and safe environment. Any child at school can play, can watch, can cheer, but importantly can enjoy the fun that the game provides.
The program has two objectives:
Address the need and desire for structured activity at school during recess and lunch

Deliver on the SFYS mission for supporting soccer in San Francisco.
The long term program goals are to provide more access to the sport for youth, more coaching experience for coaches across the city, to get more players into teams in the SFYS divisions, and create a self-funded program that directly supports soccer and community.
Our program is working!
Video Testimonial from West Portal Elementary School Principal, Henry Wong:
"… It is such a great, great program that [SFYS has] to teach the kids how to play soccer, how to be good teammates and how to work together – so keep up the good work and want to see you all in more schools!"
Motivation: "I started playing soccer when I was 12 and it ended up being a life's work of 30 years because of an after school program I joined." – former USWNT Goalkeeper Brianna Scurry
Context: "Playing soccer is great, but too many at an early age focus on just the game and not the outcomes. Health, activity that raises the heart rate, friendships, learning to win and lose, perseverance, teamwork and most of all enjoyment are all important lessons which are the real outcomes of a child participating in high-quality soccer programming." – David Batch, Chief Executive of Premier Education Group
Your support is needed! After a recent announcement, SFYS received 16 new applications for school soccer in the new year. By donating to our SFYS @ School fund, you can ensure all kids have the chance to play soccer, build confidence, and develop leadership skills.
Your donation will provide the necessary support for SFYS to pay coaches, and provide the equipment needed for an awesome time at each school.
With a $100 gift, you can support:
2 school soccer sessions
40+ students each session
Learn More about the SFYS @ School Program and how to bring it to your school here.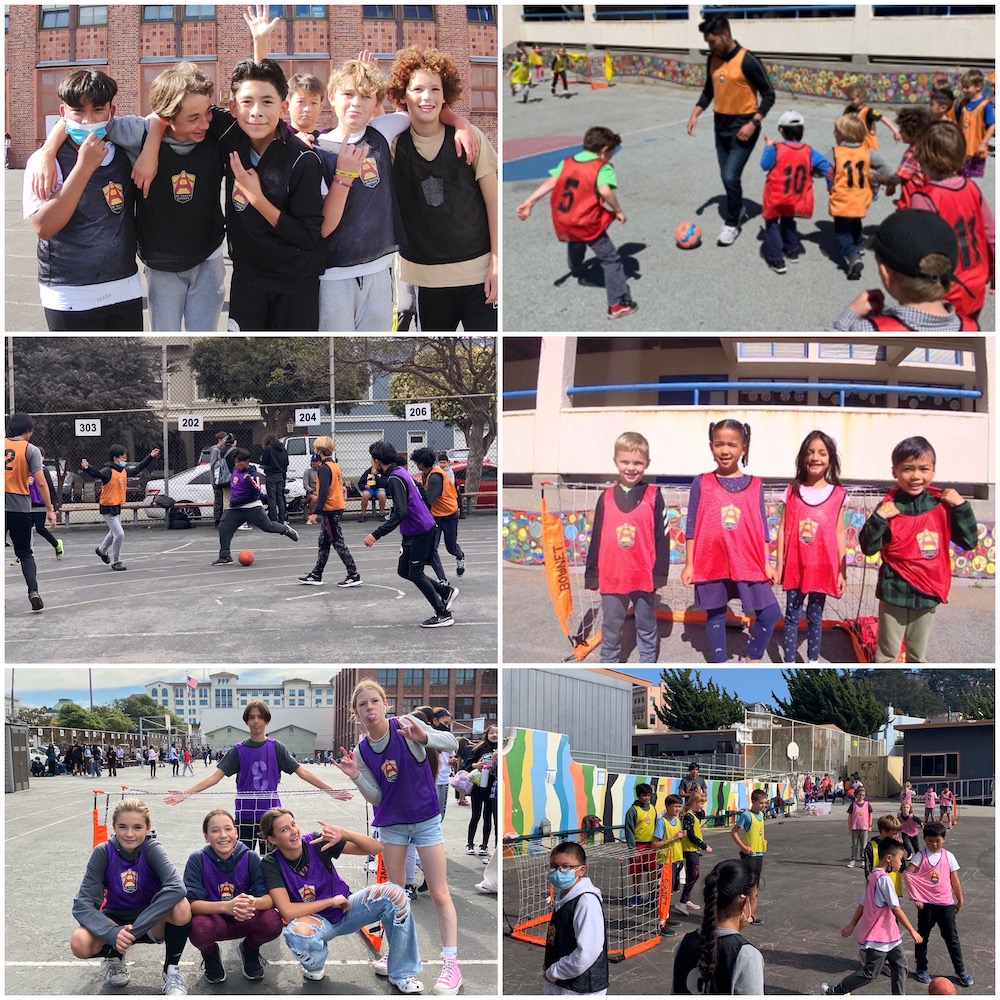 Matching Challenge
Donate to help ensure that SFYS's high-quality, low-cost league play and supplemental youth leadership programming will continue to expand to serve even more SF youth. All donations are fully tax-deductible and match-eligible! Donations received by 12/31  will be matched up to $5,000!
Donate now!
community.sfyouthsoccer.com
(415) 504-8131)
Executive Director: Scotty Kober
Mission
To support youth soccer and leadership through sport. 
Begin to Build a Relationship
We know you care about where your money goes and how it is used. Connect with this organization's leadership in order to begin to build this important relationship. Your email will be sent directly to this organization's Director of Development and/or Executive Director.
I think it's great for kids to get involved with everything SFYS has to offer. I learned a lot about myself teaching other people and it helped me grow as a person. Even my family sees it — how I've been able to resolve conflicts in the house or with friends from learning how to coach and referee through SFYS.
Safe and Brave Spaces Make Soccer Better
San Francisco Youth Soccer's newest initiative is the Youth Advisory Council (YAC). The purpose is to increase equity in the soccer community by providing players a voice to represent themselves and their peers. YAC's pillars of Education, Community, and Action allow young athletes to have mentorship, but also to dream big. The council is a safe space for the youth to speak their minds without fear of judgment. 
"It's amazing! These kids are coming together and saying, 'How can we make soccer better, more inclusive, and how can we educate people?'" says Executive Director Scotty Kober.
Help Kober raise $50,000 this year so she can hire staff to help turn their ideas into reality as well as build up her existing youth leadership programming. Donations received by 12/31 will be matched up to $5,000. 
Key Supporters
Caitlin Spaan & Bill Woodruff
The Ghali Family
Dr. Michele & Po Bronson
Image Orthodontics
Popcorn Van
Dick's Sporting Goods
DirecTV