The 'Other,' Kalyan Balaven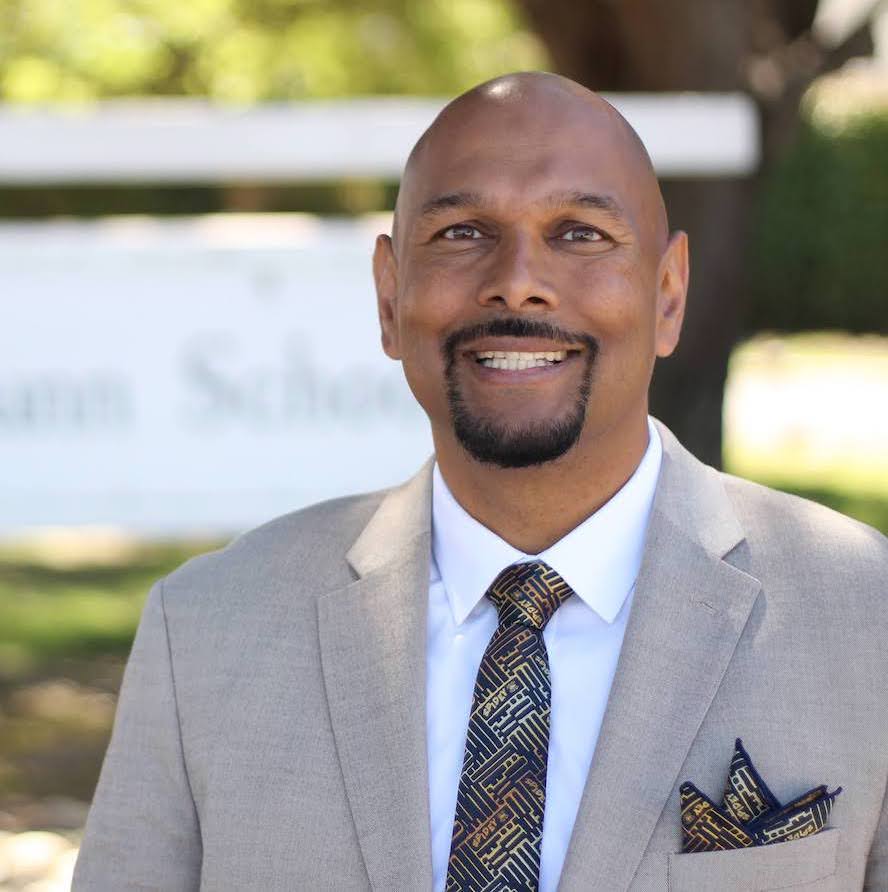 As the first person of color to serve as Head of Dunn School in Los Olivos, California, Kalyan ("Kal") Balaven is, in many ways, a long way from his youth in the San Francisco Bay Area, where his family found itself houseless, surviving on what Balaven calls community wealth. 
From an ethnic perspective, Balaven says that he's always thought of himself as "other." An outsider identification that informs his work today as the head of an esteemed private residential school with a rich history that didn't always include leaders (or many students) that looked like him.
"The idea of being part of a globally Black diaspora community was part of my upbringing. At 18, I became Muslim, but I identify myself mostly by my faith practice now because I feel it identifies me more as a human. But I know who I walk through the world as. I'm part of the larger African diaspora; I'm also part of the Tamil diaspora. But every time I tried to belong to a group, I found myself on the outskirts somehow. When confronted with boxes, I'm like, where do I fit in? So, I resonate with outliers. I want to make sure the outliers are taken care of. Because they're the afterthoughts who are often not seen."
Chasing Mr. Lindsey
It was in high school, and completely by accident, that Balaven ended up in a rhetoric class with a teacher named Tommy Lindsey who, despite Balaven's attempt to conceal his family's transient living situation, saw what was going on and reached out to help. Lindsey became a lifelong friend and mentor and supporter of Balaven. "This man really saw me," Balaven says. 
It's to Mr. Lindsey that Balaven attributes many of his important life choices. "I think I got to UC Berkeley because he really encouraged me. Then I attended law school at UC Davis, but realized that wasn't a fit, so I got into education and I became a teacher… My whole life, my whole educational career has been chasing Mr. Lindsey."
Identifying as "other," and a deep appreciation for the impact that one Mr. Lindsey can have on a student, have greatly informed Balaven's career as an educator committed to creating opportunities for outliers to feel seen – something Balaven sees as a key element of "inclusion" that is very hard to measure. But that didn't stop him from trying.
It was as the number two at The Athenian School in Danville, California, and head of diversity, equity, and inclusion, that Balaven set out to find a way to measure the idea, out of which came the creation of the Inclusion Dashboard.
"It was a great victory moment," Balaven says. "But then I started to see Athenian and many other schools using the dashboard as an indication that inclusion was happening as opposed to a tool to respond to exclusion, which is what it was meant to be. It became the very thing it was trying to identify."
When Balaven arrived at Dunn School, he recognized Santa Barbara as a good "lab" in which to begin exploring ways to respond to exclusion.
"So, the dashboard is telling you there's a problem," Balaven says. "In the lab you start to identify how to approach that problem and solve it."
With this in mind, Balaven created the first-ever Inclusion Lab in Santa Barbara County, regularly bringing together educators from private and public school worlds to collaborate on this issue.
"It's an imperative as far as an educational outcome, that the world is represented at the school that is trying to graduate students to do good in the world. But the world is not all privileged people with the means to write a check for tuition. But the program is as important as the people in the class. Our philanthropy at Dunn is tied to providing students financial aid so that they can have that experience. Our mission is about responsible leadership in society. And the philanthropic piece is… How do we give students, the afterthoughts, that opportunity?"
The Public Purpose Of Private Education
Balaven believes that schools like Dunn have an important public purpose. "So there's two veins. One is giving students that are afterthoughts, the opportunity. And then what public purpose can you, as a school, have?"
Under Balaven's leadership, Dunn has found that purpose by expanding the concept of inclusion not just to "others" like himself, but to students around the world, forced into "other" or refugee status by ongoing conflicts.
Dunn School got into the business of taking in refugees completely by accident when Balaven received a call from a mother in Ukraine, desperate to place her student in a safe educational environment. That call sparked Balaven's interest in creating an ongoing opportunity for refugees from around the globe to attend Dunn School. Since receiving that call, Balaven has raised the funds to pay the tuition of six Ukrainian students. But to guarantee that these students can remain at Dunn for all four years, they are now faced with raising an additional $450,000.
Balaven has no intention of stopping there.
"I want to find the right partners to create a refugee endowment," he says. "There's always a war somewhere on the planet. I want to do it for Dunn and to inspire other schools, in Los Angeles, in the Bay Area, and beyond, to create refugee endowments to save students from these conflicts, wherever they are. So we have a place for them to land and we can set them up for life, like only residential boarding schools can. You have a home, you have a place to stay, you have all of it."
"I also want to create a program for refugee studies so the students graduating from a school have all been part of a program and they understand the impact of conflict, and when someone seeks refuge, what happens in terms of culture? What happens in terms of politics, economics, etc.? And as they go on to seek responsible leadership in society, that is part of their toolkit. So as people in positions where they can stop or start wars, they deeply consider the human impact because they've lived it, and they've been around it."
Balaven likens this work to the building of water wells – a metaphor he was introduced to while helping, as a student at UC Berkeley, at a fundraiser in Hayward, California, to build wells in Sudan and Bangladesh.
"There was a speaker on the stage, and he was talking about the wells, and he said, 'When you build this well, you're going to be quenching thirst for generations. Even when you're gone, people will be able to drink clean water.' And I was… Wow. There's only one other thing like a well, and that's a school. When you build a school, generations will come and get knowledge. For me, philanthropy is that thing that will last longer than you do. And if you believe in the school's mission, and in what it can do for students, you give to the school because it sets up the next generation and beyond."