Collectively Moving the Needle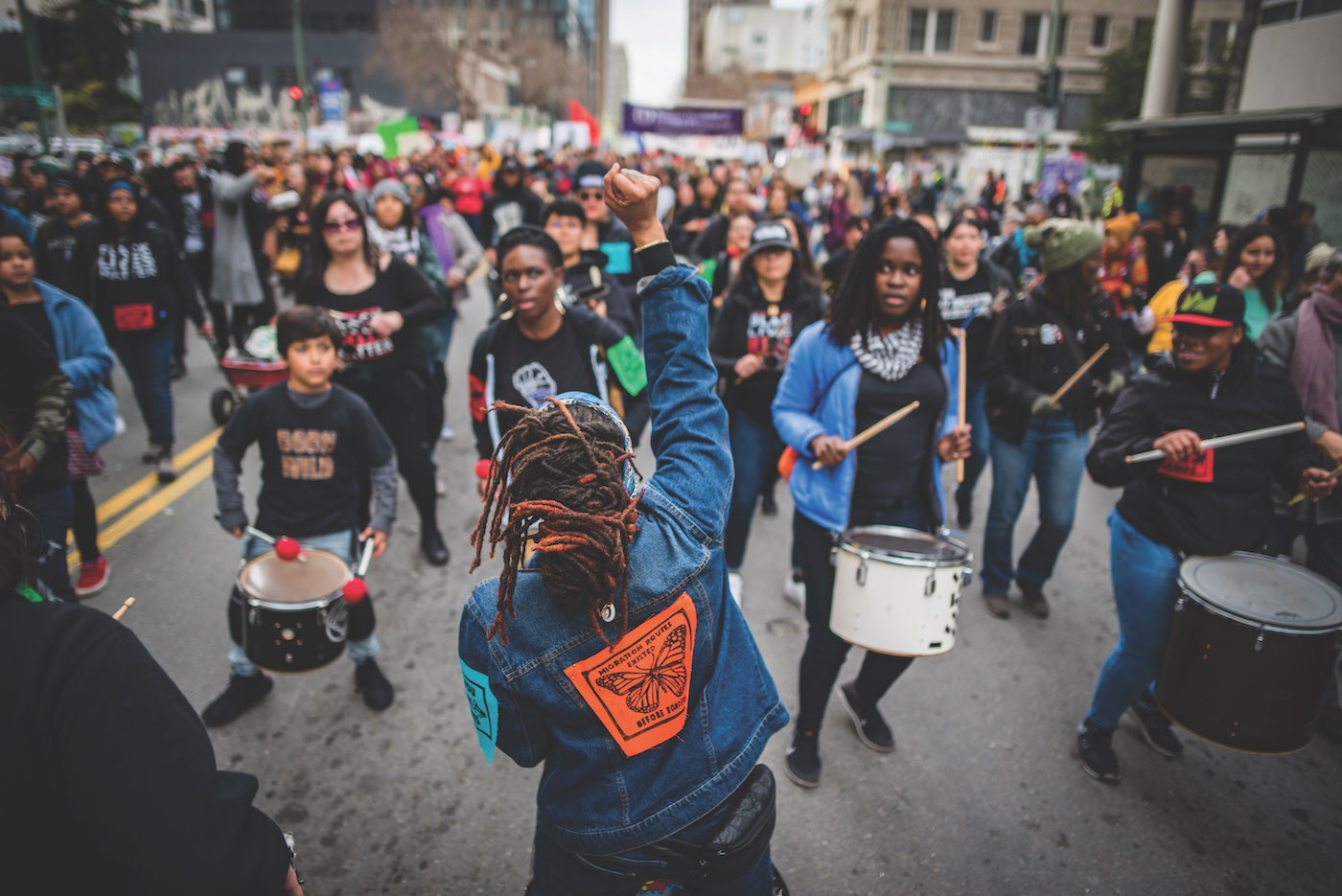 Founded in 1928, East Bay Community Foundation (EBCF) partners with an active network of donors, local government funds, institutions, and corporations to distribute an average of $200 million in grants a year to nonprofits improving the lives of Alameda and Contra Costa county residents. EBCF is not only the oldest community foundation in the Bay Area, it is also an ever-evolving leader.
Years before the racial reckoning sparked by George Floyd's murder, the Foundation's staff saw a changing need for the largely Black and Latinx communities it served driven by the growing frustration with a socio-economic system that too often selects winners and losers based on race, class, and where a person grew up.
"As a community-based organization, we have a pulse on the community," says Pamela Calloway, EBCF's interim president and CEO (longtime leader James Head retired in 2021 and newly appointed incoming President and CEO Brandi Howard begins in November 2022). "All boats were not rising, everyone was not being lifted. We still had structural barriers to progress, and we thought that was important to say out loud."
Accordingly, in 2019 the organization revamped its mission statement and decided to address head on the issues it was seeing: systemic racism and economic inequity.
The move garnered East Bay Community Foundation the title of "Boldest Community Foundation" by the widely-read trade publication Inside Philanthropy that year.
"We were making racial justice our priority before the sector declared 2020 a 'racial reckoning,'" Calloway, who served on the Foundation's board for eight years, says. "As a foundation, we are in a position of power, and we take the responsibility to support our community seriously."
The Foundation's goal is to organize donors to raise money and distribute grants, resources, and technical assistance to community-based organizations that are both focused on addressing systemic power imbalances and are led by women and people of color, who have been historically overlooked and under invested in. In this way, EBCF serves as a convener for community transformation.
The work builds off of the history of the East Bay, where social justice platforms like the Black Panthers and the Free Speech Movement established roots and sparked a national reckoning. Similarly, East Bay Community Foundation considers truth telling to be part of its DNA.
"It's our national motto: E pluribus unum. Out of many, one. We can pool our resources, we are an investment choice for donors," Calloway says. "As a collective we stand a better chance of moving the needle. It's a way for us to provide expertise that augments the knowledge and experience of our individual donors and partners."
Using those pooled resources as part of its strategic regional grantmaking approach, in its fiscal year that ended in June 2022, the Foundation awarded $4.8 million in grants to 100 nonprofit organizations they deemed to be leaders in one or more of its core program strategies: Arts & Culture for Racial and Social Justice; Capacity Building with a Racial Equity Lens; Community Organizing, Power Building, and Movement Building; and Fostering Inclusive Economic Models.
In addition to those core program strategies, the Foundation is a leader in the burgeoning field of impact investing (see profile of CFO Valerie Red-Horse Mohl on page 159).
Not only is it ensuring that the entirety of its $679 million assets under management is invested in line with its racial justice and racial equity values, but it also offers donor-advised fund clients opportunities to make "program-related investments" like low-interest loans, loan guarantees, and private equity investments to select Black, Indigenous, and people of color businesses and nonprofits.
"These are new things to philanthropy. We are taking our definition of 'community-based' as far as we can," Calloway says. "It means that we are examining novel ways to leverage our diverse set of resources to address community pain points and to bring parties together to exchange ideas and create support."
The majority of East Bay Community Foundation's staff live in the two counties that the Foundation serves and identify as Black, Indigenous, and people of color.
Unlike private foundations endowed by one ultra-wealthy benefactor, East Bay Community Foundation is supported by a community of donors who have opened donor-advised funds or other charitable vehicles. Like most community foundations, fees assessed on those funds comprise most of the public charity's revenue, which supports its operations and grantmaking. Compared to larger community foundations, however, EBCF does not have a multi-billion-dollar endowment that it relies on to fund its annual operating costs. Instead, it must rely on donations from community members, local corporate partners, and other foundations. To Calloway, those donations are key because they represent community buy-in.
This is the core of the Foundation's ethos wherein donors, grantees, and the Foundation itself are partners using pooled economic resources and expertise toward a vision of A Just East Bay.
Illustrating the impact or selecting a single initiative of a pooled, community approach to philanthropy is no easy task. The Foundation's multi-strategy, community-driven work can instead be conceived as a strategic regional approach to shift power to address the biggest challenges of our time. The vision of A Just East Bay is one where East Bay communities that have been historically disenfranchised have the economic, cultural, and social power to make choices for their own well-being and opportunities to thrive.
An example the East Bay Community Foundation cites to illustrate its strategic regional approach to philanthropic giving is one that is known to most Californians: the housing crisis. In Alameda and Contra Costa counties, the cost of housing has displaced communities and skyrocketed the number of people experiencing homelessness. A well-intentioned East Bay donor might decide to donate to a local homeless shelter – essential programs that support urgent, immediate needs. Another donor might have a fuller understanding of the kinds of wrap-around services a person needs to move from homelessness into permanent housing, and choose to support nonprofit organizations providing primary care, behavioral health, and workforce development services. A third donor might look for remedies through community organizing groups that train and mobilize community members to advocate for tenant rights and rent control.
The Foundation's approach is all three. EBCF works with artists who inspire community imagination and social change, movement leaders in community organizing and advocacy, collaboratives establishing and democratically governing community assets for community benefit, and Black-led direct service organizations seeking support for leadership transition or long-term sustainability.
East Bay Community Foundation is gathering community support for all its work under the umbrella of the vision of "A Just East Bay" through The Campaign for A Just East Bay. Charitable donations to this campaign will be used to further the organization's strategic regional grantmaking approach, its impact investing work to close the wealth gap, and its innovative grantmaking practices that align community assets with community needs.
"I'm so proud and pleased to be leading and part of an organization that takes this work so seriously and does it so well. Joining with us becomes a source of pride and real impact and activism for everyone who is a stakeholder," says Calloway.
Donate now!
www.ebcf.org/giving
(510) 836-3223
Interim Director of Philanthropic Advising: Brenda Laribee
Mission
To ensure that all members of our community are treated fairly, with equitable opportunity and outcomes.
Begin to Build a Relationship
We know you care about where your money goes and how it is used. Connect with this organization's leadership in order to begin to build this important relationship. Your email will be sent directly to this organization's Director of Development and/or Executive Director.
This is a critical moment of opportunity for the East Bay community. As an Oakland native, my lived experience is the impetus for my drive for equity and justice. I left the private sector and entered the public sector to align my commitment to equity and justice in the work I do every day. With 10+ years of launching equity initiatives in New York and at home in the East Bay, I could not be more excited to join EBCF as we continue to advance a more just East Bay.