Changing Lives Through the Power of Horses, Hope, and Healing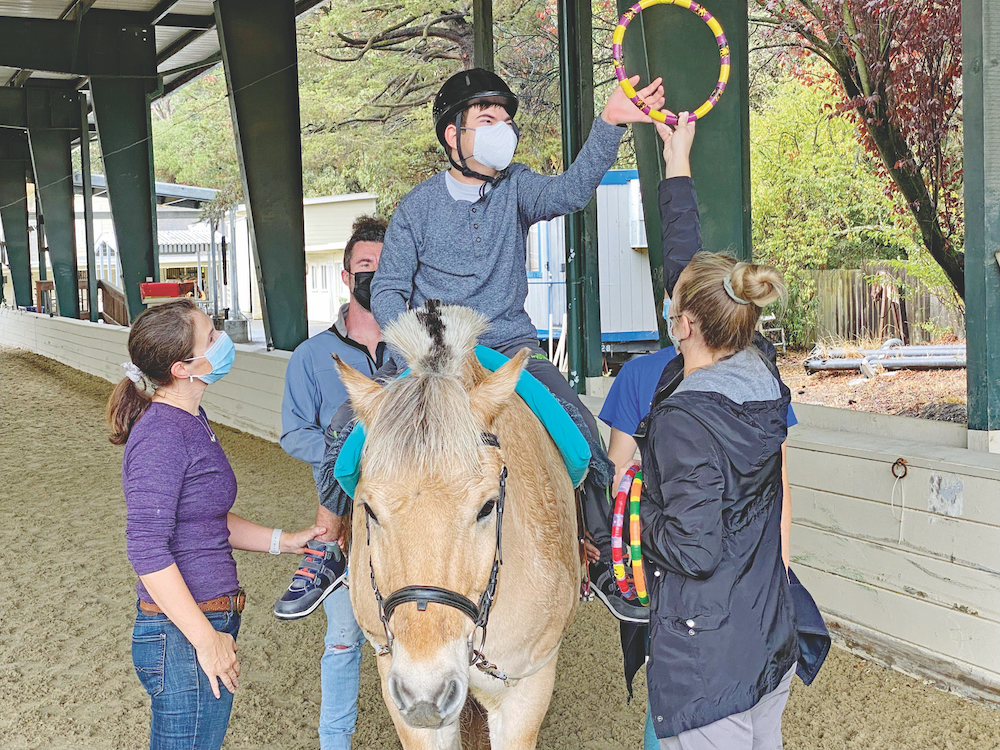 Founded in 1971 and nestled on 12 acres in Woodside, the National Center for Equine Facilitated Therapy (NCEFT) is internationally recognized as a leader in equine-assisted programs, providing life-changing and long-term healing for adults and children living with physical, cognitive, psychological, and behavioral disabilities.
"Partnering with horses to create a healing experience is uniquely powerful," says Nancy Contro, NCEFT Executive Director. "Just grooming a horse can be regulating, bringing down blood pressure and reducing anxiety."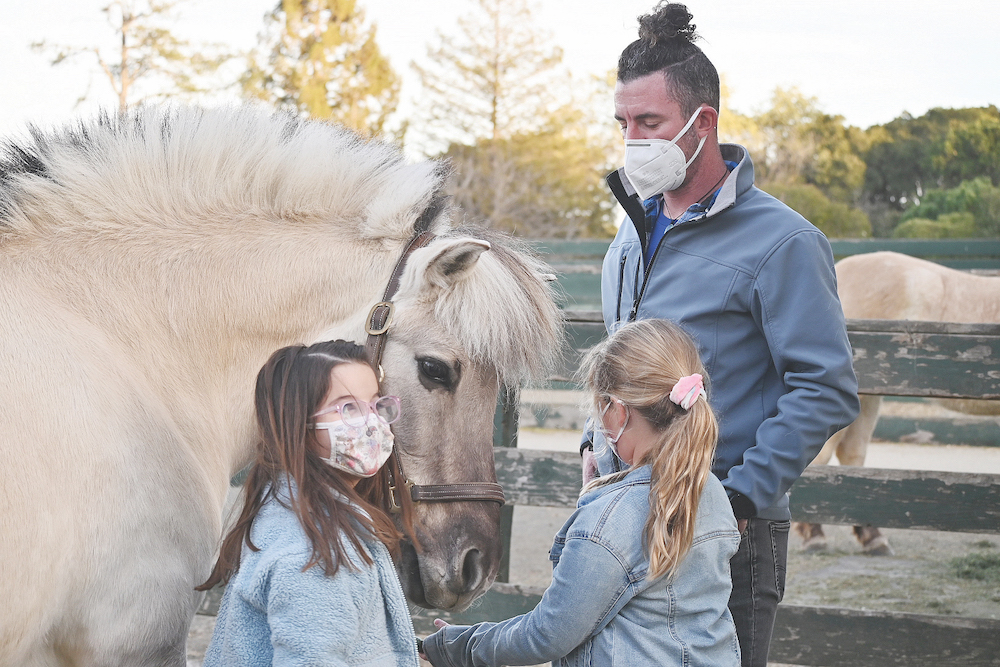 NCEFT is the only Bay Area facility that offers such a breadth of equine-assisted programs, which include Therapy and Adaptive Riding & Horsemanship, as well as their newest area of programming, Mental Health and Resilience. Each program is designed to provide clients physical and emotional benefits and measurable outcomes.
Therapy is medically-prescribed Physical, Occupational, or Speech Therapy, incorporating the horses' movement into treatment instead of being inside a clinic using inanimate equipment. Clients diagnosed with physical, cognitive, and neuromuscular disabilities, such as cerebral palsy, down syndrome, or autism, sit astride horses in many positions. Therapy sessions enable clients to develop core strength, balance, and stability, all essential in functioning in their daily lives, says Contro.
Adaptive Riding & Horsemanship offers recreational horseback riding and horsemanship lessons adapted for the individual's abilities.
Mental Health and Resilience programs help people dealing with trauma and other mental health concerns. Clients range from individuals with chronic illness such as cancer to first responders and military veterans to youth and adults experiencing anxiety and depression.
Contro recalls a breakthrough that happened in a workshop for adolescents. One teen with severe anxiety initially refused to get on the horse. With the other participants encouraging him to try, he finally said he would "sit on a horse, but that's all." After some calm breaths atop the horse, he quietly said, "Okay, let's go." His ride incorporated reading affirmations and experiencing the five senses on a sensory trail. When it ended, he said it was the most fantastic experience he'd ever had and all of his peers were very excited for him.
"It's tremendously powerful when the horses, the outdoor experience, and mindfulness all come together to create a safe and powerful experience for people," says Contro.
"We're doing life-changing work," Contro adds. "We are improving the lives of people every single day."
Donate now!
www.nceft.org
(650) 851-2271 ext. 7
NCEFT Development Director: Cherie W. Hammer
Mission
NCEFT is dedicated to helping children, adults, and military Veterans with special needs reach beyond their boundaries through equine-assisted therapies, education, and research.
Begin to Build a Relationship
We know you care about where your money goes and how it is used. Connect with this organization's leadership in order to begin to build this important relationship. Your email will be sent directly to this organization's Director of Development and/or Executive Director.
As a healthcare provider, horseman, and NCEFT Board member, my experience came full circle by becoming a patient. I fractured my neck in a horse competition and was paralyzed. After a lengthy stint in a rehab unit and months of in-clinic therapy, I started treatment at NCEFT. My discharge prognosis was wheelchair use for the remainder of my life. Today, I no longer use the wheelchair, walk with canes, and am an independent competitive horseman. I believe that the balance and core strengthening components of hippotherapy provided by NCEFT was (and is) the key reason I can walk today. NCEFT is truly where miracles happen. I encourage you to support NCEFT, so that others may achieve their potential and gain freedom from their limitations.
You Can Make a Difference For Someone Living with a Disability
NCEFT is about compassion, inclusiveness, and offering the highest level of service to those in need.
NCEFT delivers thousands of program sessions year-round, benefiting over 300 people each year. NCEFT never charges veterans or first responders for any services.
Your donations accomplish the following:
$100,00 underwrites staff therapists, instructors, or barn staff
$50,000 supplies horses with feed & bedding for 1 year
$25,000 supports 1 year of Special Education School Programs
$10,000 underwrites a Mental Health & Resilience Workshop
$5,000 subsidizes 1 year of PT/OT financial assistance
$2,500 supports a veteran or first responder for 8 weeks of Horsemanship Academy
$1,000 underwrites the Spring Fling Riding Showcase
$500 sends a client to Happy Trails Summer Camp
Key Supporters
Atkinson Foundation
Barulich, Dugoni & Suttmann Law Group, Inc./Paul & Donna Barulich
Bayhill Equine/Wayne Browning DVM
Bear Gulch Foundation
Dr. Harvey J. Cohen
Fast Response Onsite Testing, Inc.
Bill & Lee Ann Gilbert
Betsy Glikbarg
Hurlbut-Johnson Charitable Trusts
Chris Iverson
Susan Lang & Robert Levenson
Ligara Farms
Lawrence E. Pelzner & Associates
Susan & Gary Martin
Palo Alto Community Foundation
Peninsula Health Care District
Sequoia Healthcare District
Spring Down Equestrian Center
Tack Gives Back
Dr. Casey and Sandra Terribilini
Anne Van Camp & Peter Van Vlasselaer
Rebekah & Dean Witter III
Woodlawn Foundation