Juma's Steep Learning Lab: A Sweet Opportunity for Youth
Juma's latest venture, Steep Creamery and Tea, is set to become a new kind of learning laboratory for Juma youth. With support from the Citi Foundation's Community Progress Makers Initiative and other generous donors, Juma is poised to evolve Steep from an ice cream and boba tea shop into the next iteration of Juma job training; a standalone, youth run and led business that will provide young people from underserved communities with new ways to learn leadership and management skills.
Steep was originally conceived and founded by two Juma alumni who, after completing their respective Business Administration Degrees, decided to pursue their dream of becoming entrepreneurs. Today, Steep brings Juma the opportunity to once again own and scale a standalone business. The move harkens back to Juma's roots and celebrates its heritage as the first nonprofit organization to own and operate a Ben and Jerry's scoop shop.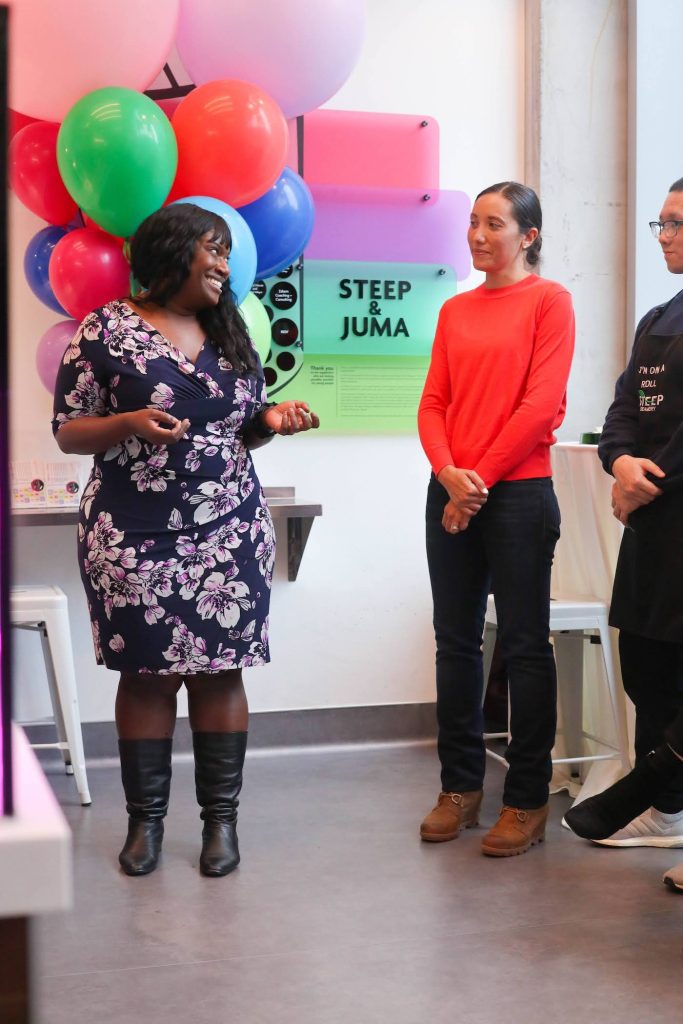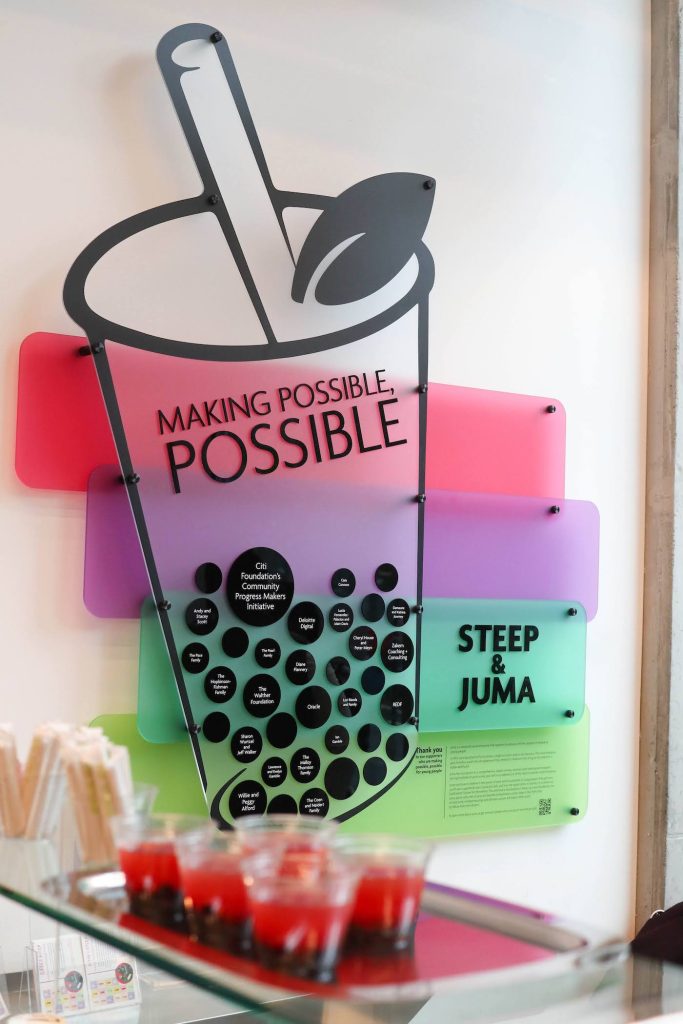 Steep will provide employment roles for youth in positions like Shop Manager, Operations Manager, Key Holder, Cashier, Stocker and Customer Service representative. In the long-term, Steep will become Juma's first management laboratory–a comprehensive youth-focused Management and Leadership training program allowing youth who are interested in business management and entrepreneurship to gain the soft and hard skills they'll need to manage and operate their own small businesses. In addition to offering youth new ways to earn and deeper learning, Steep will also provide year-round employment; a game-changer for the young people whose needs are most dire and would benefit from additional workshifts outside of the baseball season.
At Steep's recent Grand (Re)Opening event, supporters and friends gathered for the unveiling of Steep's Donor Appreciation wall. In the future, Juma envisions a version of Steep existing across all their sites. From Seattle to Atlanta, Sacramento to Houston, the goal is to provide Juma's signature job training and management curriculum to every young person in need of income and an opportunity.
Sponsorship opportunities are still available. Contact Andrea Coen, Chief Development Officer, via andreac@juma.org to learn more.
Steep is open and serving guests at 270 Brannan St. in San Francisco from 12pm-6pm Thursday to Sunday and available through DoorDash and GrubHub.
Catering available throughout the Bay Area – contact CaterSteep@juma.org or visit https://www.juma.org/catersteep-packages
Donate now!
Double your donation today!
Through December 31, 2022, every donation of $300 and above will be generously matched by Ahsha and Dylan Haggart up to $15,000.
A $300 donation is enough to provide a stipend to a youth for the full course of Juma's financial capability, career development, and job readiness workshops. Stipends are critical so youth can afford to attend trainings without giving up their income. That way, they don't have to choose between showing up for work or preparing for their future. Juma's goal is to raise enough funds to support 100 youth — money that goes directly into their pockets — through December 31.
Mission
Juma strives to break the cycle of poverty by paving the way to work, education, and financial capability for youth across America.
www.juma.org
(262) 825-2523
Individual Giving Manager: Jessica Yost
Begin to Build a Relationship
We know you care about where your money goes and how it is used. Connect with this organization's leadership in order to begin to build this important relationship. Your email will be sent directly to this organization's Director of Development and/or Executive Director.
I am dedicated to supporting Juma because I know that my contributions directly impact low-income youth who are intent on improving their lives. Juma provides job skills training, mentorship, career exploration support, financial literacy training, and ultimately, a first job. With positive adult role models and supportive peers, the Juma community is a lifeline to many who face substantial barriers in entering the workforce and who may not otherwise succeed without the support of the organization. I am continually inspired by the Juma youth I meet who, in spite of hardships and disadvantages, remain optimistic and are enthusiastic to take advantage of all that Juma has to offer. The countless success stories of Juma youth that have completed the program are a testament to the commitment and dedication that Juma puts forth in accomplishing its mission.
Support the Potential of Young People
Juma Ventures is helping to break the cycle of poverty by paving the way to work, education, and financial capability for youth across America. 
You can help Juma with your support:
$1,000: Creates one job opportunity for a Juma youth
$500: Supports one youth to complete the Career Program Series 
$100: Helps youths meet basic needs
Key Supporters
Alaska Airlines
Bank of America
Deloitte
Ahsha and Dylan Haggart
REDF
The San Francisco Giants
The Schultz Family Foundation
The Sobrato Family Foundation
Jane Thornton
Michael and Tory Winnick