Engaging Caregivers in Reimagining Youth Mental Health Systems

Caregivers are the earliest and best advocates for children, and have the lived experience and expertise to inform how and where system changes can occur to ensure access. Caregivers can and need to shape policy and procedures. Equally important, caregivers have a central role in making sure the systems of care recognize the agency and expertise of their children even prior to their legal rights to consent to their own care.
In this Q&A with Nancy Netherland, CCT's new Director of Parent and Caregiver Engagement, learn how caregivers can advocate for a reimagined youth mental health system.
Nancy built her family through foster care by adopting, as infants, a sibling group living with medical complexities. Amelia, now age 14, loves horses, anime, and ramen and lives with a rare systemic auto-inflammatory disease, severe learning disabilities, chronic pain, and is neuro-atypical. Sarah, now age 15, loves rescue dogs, the Yuba River, and Fortnite and lives with a rare neurologic pain condition, learning disabilities, and severe ADD.
We are excited to have Nancy onboard, and at a time when she can help shape the unprecedented opportunities to integrate health and mental health care for medically fragile children and youth—thereby influencing improved care coordination for all children and youth who rely on Medi-Cal.
Q&A with Nancy Netherland, Director of Parent and Caregiver Engagement for California Children's Trust
Nancy has significant experience navigating the complexities of Medi-Cal on a journey toward better physical and mental health care services, support, and care coordination. We look to her for insights, ideas and inspiration on how to engage e lived expertise of caregivers and youth and reimagine a health care system that acknowledges and addresses the integration of mental and physical wellbeing.
What experiences have inspired your work?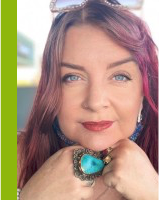 Early in my career, working in Medicaid clinics and in in-patient settings as an
art therapist, case manager, therapist, and program manager, I was captivated by the mind-body connection. That interest intensified with my personal experience of
parenting children living with complex, chronic health conditions and seeing day to day how, despite a delivery system that divides mind from body, there is no real duality of physical and emotional health. This led me to start a navigation and wellness program for caregivers and parents of children living with complex and chronic health conditions.
How do you explain the intersection of physical and mental healthcare, and how that links to CCT's work?
I often talk about what happens above the neck (mental health) and below the neck (physical health) has an arbitrary bifurcation. We are talking about a single organism and there is literally no way to separate the head from the body- so having a health care delivery system that attempts to do so is problematic.
Therefore, when my children were diagnosed with chronic, life limiting illnesses I naively assumed that the recognition of the connection between physical and emotional health was as widely recognized in practice as it is in research. I was terribly wrong.
I was familiar with the research that shows that children who have chronic health conditions and chronic pain are at significantly higher risk for downstream mental health and substance use disorders. I was literally shocked to discover that their insurance would only cover the physical aspects of their illness, and unless they had a mental health diagnosis, there was no care available to keep their whole person well. It was clear to me and their medical teams that we could not separate the impact of their illnesses from their mental health, and yet that is what was happening because of the policies in place.
Similarly, despite ample research on the impact of caregiver health on the health outcomes of children, there were no wellness resources for caregivers. However, if a caregiver waits for their stress to become a mental health or substance abuse disorder, then insurance may cover care.
These themes came up over and over-how hard it was to care for children whose physical and mental health needs were being siloed. I realized that the barriers being encountered were systemic and beyond individual institutions, and that there was a paucity of voices with lived expertise at policy tables talking about this issue.
So I turned my professional attention to policy work.
What are the main issues you are hearing from caregivers who are trying to navigate the mental health system with their children?
At the top of the list is having to wait for a diagnosis or crisis to get care. We don't wait for pre-diabetes to turn into diabetes or for pre-cancerous cells to metastasize before triggering medical interventions. I know changes are being made in this arena, but it is still a huge point of pain and frustration for caregivers. Caregivers know when their children are struggling, yet the resources to halt the progression into a more serious situation have not been available.
Closely related is the lack of a meaningful continuum of care and the gap that leaves between mild to moderate mental health issues and hospitalization. Specifically, there seems to be a refusal to treat mental health conditions like any other chronic health condition.
For example, a child with Crohn's disease gets continued treatment and supportive therapies even when they are non-symptomatic. However, depression, anxiety, substance use disorder, and other mental health illnesses are treated episodically, if at all, and often with no long term management plans.
Where do you see the most potential for change and what can CCT's allies and advocates do to accelerate that change?
Presumptive eligibility will be huge – allowing for care prior to a mental health diagnosis is essential. I think it's going to be important for all stakeholders to make sure this policy comes to life and that providers, parents, caregivers, and community members know how to access care for children who are at risk for mental health diagnoses.
I think models like UCSF's CAPP program that train pediatricians to treat mental health conditions during primary visits and the dyadic benefit (treating caregiver and child together) hold incredible promise.
Policies to create a more inclusive workforce- peer professionals, community health workers, etc – hold promise as strategies to make behavioral health care more accessible by de-pathologizing, removing stigma, addressing structure barriers to care, and addressing health disparities.
Recognition of how structural racism and ableism within the healthcare delivery system is harming children and caregivers is essential. I am hopeful that the new contracts for MediCaid managed care providers will create new systems of accountability and redress for healthcare disparities. And that directing new funds for behavioral health to school-based settings will create pathways for inclusion.
Donate now!
www.cachildrenstrust.org
(415) 629-8142
Principal, California Children's Trust: Alex Briscoe
Mission
The California Children's Trust is committed to working together to reinvent our state's approach to children's social, emotional, and developmental health. We are a statewide initiative that seeks to improve child well-being through policy and systems reform.
Begin to Build a Relationship
We know you care about where your money goes and how it is used. Connect with this organization's leadership in order to begin to build this important relationship. Your email will be sent directly to this organization's Director of Development and/or Executive Director.
"It's our responsibility to set up the next generation with the mental health tools they need to succeed at school and in life. SB 803 is a great step forward in the peer-to-peer world but it needs to be followed up with more legislation that includes youth under 18 at the high school level."
Supercharged Impact
The California Children's Trust is a time-bound initiative supercharged by partnerships with youth leaders and community-based organizations who are positioned to advance CCT's work after the initiative sunsets at the end of 2024.
Over the next two years, if Principal Alex Briscoe and the team are right, California will be well on its way towards robust, generational support for children's social and emotional well-being.
Key Supporters
Catherine Teare
California Health Care Foundation
Kimberly Ricketts
Casey Family Programs
Elizabeth Cheung
Conrad N. Hilton Foundation
Deborah Kong
David and Lucile Packard Foundation
Sarah Crow
First 5 Policy Center
Rajni Dronamraju and
Elizabeth Hawkins
Genentech
September Jarrett
Heising-Simons Foundation
Pedro Arista
Hellman Foundation
Cecilia Oregon
Kaiser Permanente Institute for
Health Policy Studies
Lisa Stone Pritzker
Lisa Stone Pritzker Foundation
Kim Belshe
Los Angeles First 5
Shirin Vakarhia
Marin Community Foundation
Chandrika Zager
Marin County Behavioral Health
Jay Liao
Our Children Our Families Council
Chevon Kothari
Sacramento County Health
Care Services Agency
Katie Albright
Safe and Sound
Theresa Ziguera
San Francisco First 5
Thanh Do
Santa Clara First 5
Dan Tuttle
Stupski Foundation
Susannah Sarlo
The Susie Sarlo Foundation
Dr. Anda Kuo
UCSF Center for Child and
Community Health
Amy Price
Zellerbach Family Foundation
Jenn Tracey
Zero to Three