Join JFCS for Holocaust Remembrance Day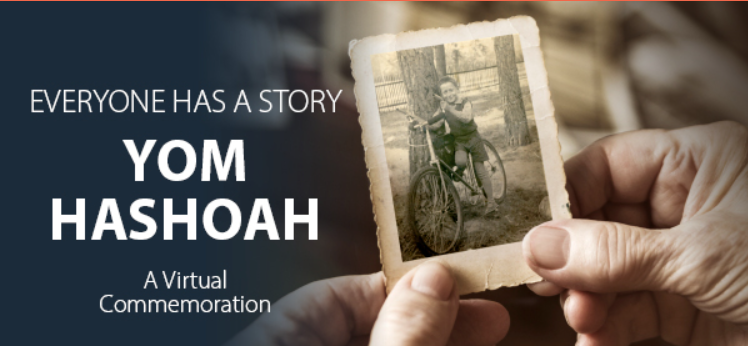 "Testimonies are perhaps the most powerful tool in bringing Justice to the victims." 
—Reb Shlomo of Bobov 
In commemoration of Holocaust Remembrance Day (Yom HaShoah), Jewish Family and Children's Services' Holocaust Center will host a two-day online program on April 27 and 28. You are invited to attend all or part of this meaningful series of community events featuring Holocaust survivor testimony, a reading of names, and thought-provoking conversations. This year's theme is "Everyone Has a Story."
Holocaust education is more important than ever with the troubling rise in antisemitism. The JFCS Holocaust Center is Northern California's primary resource for education about the Holocaust and genocide. More than 28,000 students, teachers, and community members each year throughout Northern California and beyond participate in the center's innovative programs each year.
Through year-round programming for high school students, college students, educators, and the community, the Holocaust Center works to ensure the lessons of the Holocaust continue to inspire empathy, social responsibility, and moral courage in students and community members.
"Everyone Has a Story" Yom HaShoah: A Virtual Commemoration
The events are being held online. Click here to register.
Wednesday, April 27, 2022
Reading of Names and Memorial Commemoration
4:00 pm (PDT) 
Reading of Names and Community Yizkor Memorial Service 
Featuring clergy from San Francisco synagogues and the Israeli Consul General
6:00 pm (PDT)
"Yom HaShoah: The Memory of the Past and the Moral Responsibilities of the Present" 
Dr. Anita Friedman, Executive Director of JFCS, in conversation with Yoav Potash, filmmaker, and Aaron Tartakovsky, community leader
Thursday, April 28, 2022
Day of Commemoration
Presented by the JFCS Preisler Shorenstein Institute for Holocaust Education
10:00 am (PDT) 
Holocaust Survivor Testimony
Featuring Leon, a member of the William J. Lowenberg Speakers Bureau
7:00 pm (PDT) 
"Years of Glory: Recovering the History of the Holocaust in North Africa"
Susan Gilson Miller in conversation with David Biale. 
Presented by the JFCS Holocaust Center in partnership with New Lehrhaus and the Center for Jewish Studies at UC Davis. 
Registration is free thanks to the generosity of the donors to the JFCS Holocaust Center. Donations will support Holocaust education. For more information or to sign up, please click here.
Participants best express what it's like to participate in the JFCS Holocaust Center's programs:
"Survivors are physical embodiments of history, and at the same time, part of my community. I feel deeply convicted in my belief that storytelling has the power to change the world, and my world was absolutely changed by hearing Anita's story. Learning about her gave me a model for resilience, compassion, and understanding."
—Zoe, a student, reflecting on her experience listening to a Survivor's testimony
Please visit https://holocaustcenter.jfcs.org/ to learn more about the Holocaust Center's range of programs, upcoming events, and ways to get involved.
Donate now!
Matching Challenge!
JFCS' Board of Directors will match every dollar of support up to $10,000 from The Giving List donors. Join us in ensuring our community thrives.
Provide Critical Support to the Community by Expanding JFCS' Emergency Services Fund
We continue to live in challenging times. JFCS seeks to raise $100,000 for its emergency services fund, so that there is critical support when a community crisis arises. Contributions allow JFCS to serve those who couldn't otherwise afford services.
Mission
Jewish Family and Children's Services exists to provide professional and volunteer services for the purposes of developing, restoring, and maintaining the competency of families and individuals of all ages.
Traditionally, Jewish Family and Children's agencies carry a special responsibility within the Jewish community for reaching out to children, the aged, the alienated and the dependent, and for the resettlement and acculturation of refugees and immigrants.
As part of the network of Jewish community services, the Agency helps promote Jewish continuity through the provision of preventive, educational, therapeutic, and supportive services, within the context of historic Jewish values, emphasizing inter-generational ties and community responsibility.
www.jfcs.org
(415) 449-3858
Director of Development and the Endowment Fund: Barbara Farber
Begin to Build a Relationship
We know you care about where your money goes and how it is used. Connect with this organization's leadership in order to begin to build this important relationship. Your email will be sent directly to this organization's Director of Development and/or Executive Director.
My mother's quality of life greatly improved, as did mine, knowing that she was in such safe and capable hands. Her needs have varied over the years, but the one thing that's consistent is the way JFCS' Seniors At Home helps us – regardless of the issue. What a blessing it is for the Bay Area to have an organization that serves our community from birth to death. I feel like the folks at JFCS have supported me the way siblings would support each other. I am so grateful to have found them.
Board of Directors
Valli Benesch
Robert Blum
Marci Dollinger
David Dossetter
Steven Feinberg
Kathy Fields, MD
Zhenya Friedman
Carl Grunfeld, MD
Scott Haber
Oded Hermoni
Andy Hess
Alex Ingersoll
Robert Kaufman
David Kiachko
Natacha Kolb
David Kremer
Kerri Lehmann
Lisa Stone Pritzker
Garry Rayant, DDS
Laura Robbin
Michael Rolnick
Robert Rosner
Sandra Shmunis
Lydia Shorenstein
Deborah Stadtner
Jacqueline Neuwirth Swire
Luba Troyanovsky
Alex Varum
Mitch Waxman
Doug Winthrop