At The Crossroads 2022 Key Initiatives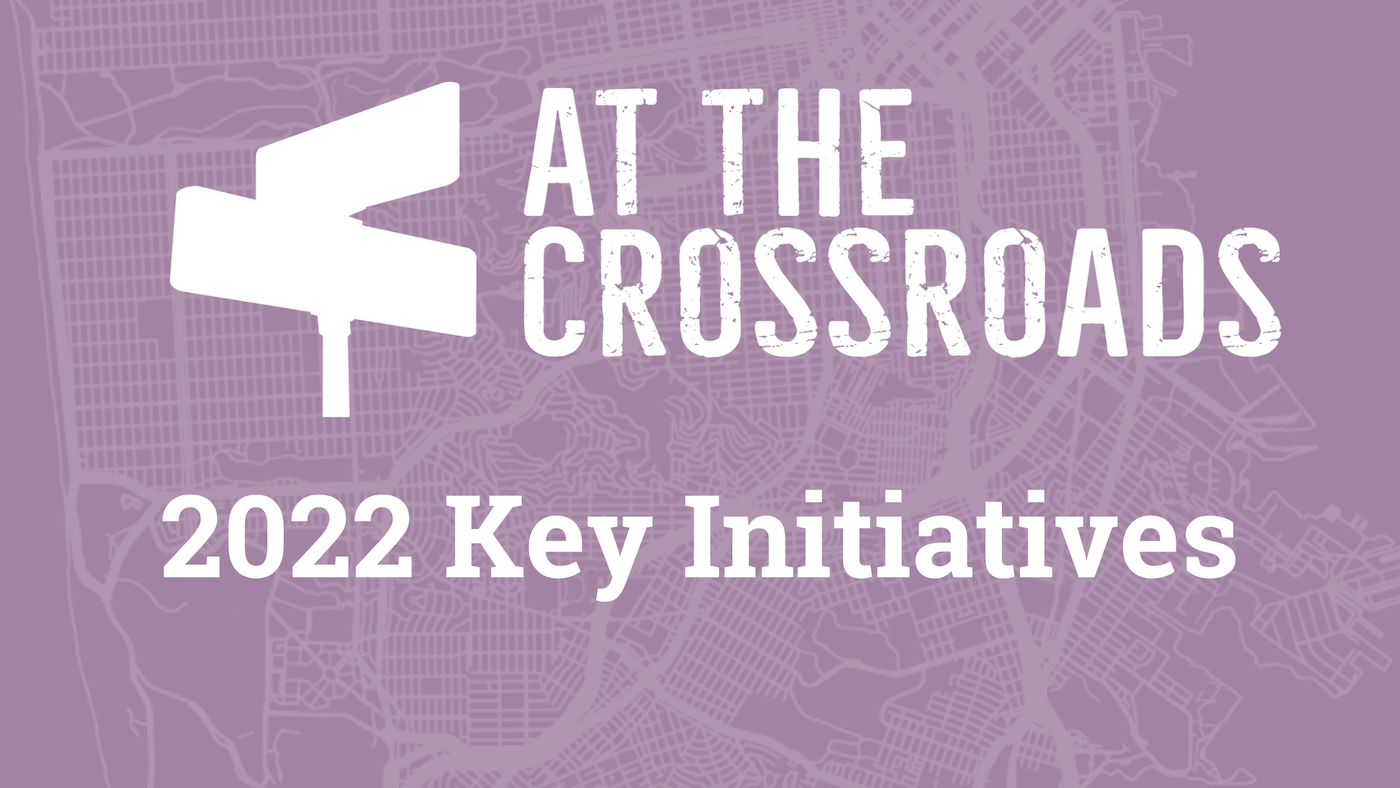 Each year the At The Crossroads (ATC) team sits down to reflect on our organizational goals and progress, and set priorities for the coming year. We remain laser focused on increasing our impact and creating change in the homelesness response system. One of the core values at ATC is transparency. We believe that sharing things like key initiatives with our community helps keep the team accountable as well as keeps supporters engaged with the overall mission. Guided by our overall 2020-2023 Strategic Directions, we are excited to share our bold initiatives for 2022.
At The Crossroads' 2020-2023 Strategic Directions and 2022 Initiatives
2020-2023 Strategic Directions:
Broadening our impact through partnerships and innovative, evidenced-based services
Enhancing work culture to foster and support high-performing, fulfilled staff
Mobilizing a community of supporters through public awareness and engagement
2022 Initiatives:
Host a Series of Events that Educate, Inspire, and Build Community
Time period: 1/1/22-12/15/22
Goal: ATC will produce a number of events throughout 2022 that are accessible, fun, and help people learn about the issues that affect our clients and community. These events will also serve as a way to connect all of us who are invested in building a more compassionate and equitable Bay Area.
Reinvigorate ATC's Brand Messaging
Time period: 1/1/22-5/31/22
Goal: ATC will craft new messaging about our work—including our first-ever vision statement and an updated mission statement—which will serve as our north star. ATC's external messaging will be bolder, rooted in our values, and drive how we mobilize community members who are passionate about addressing housing instability and inequity in our region.
Design and Administer an Outcome Study
Time period: 1/1/22-12/15/22
Goal: In partnership with Analysis Group, ATC will conduct our first outcome study. ATC will establish key metrics to "measure what matters" in order to better understand the impact of our client-directed, unconditional, and long-term model of support. This important step in becoming a more data-informed organization follows the completion of our first-ever client study in 2021.
Establish a Professional Development and Employee Mobility Program
Time period: 1/1/22- 12/15/22
Goal: ATC will develop a program that fosters a continuous learning culture, investing deeply in our current staff and the future of ATC. It will focus not only on current training needs but provide opportunities for mentorship to our staff empowering them to grow into leadership roles. The program will include professional development plans and budgets for all staff, management training, coaching, and wellness activities. ATC will also be establishing an internship program that will develop a meaningful pathway for employment for underrepresented individuals in our city, including previous clients.
It is ATC's goal to build a more compassionate and equitable Bay Area where everyone can thrive. We will be sharing our progress throughout the year. We hope that you continue to support us in our mission. Whether that is participating in our events, reading our communications, spreading the word to your friends and family, or investing financially. We all have different roles to play, and it's going to take all of us!
Donate now!
www.atthecrossroads.org
(415) 487-0691 x101
Executive Director: Artavia Berry
Mission
At The Crossroads reaches out to homeless youth and young adults at their point of need, and works with them to build healthy and fulfilling lives. By bringing our services directly onto the streets, we cultivate long-term, unconditional relationships with young people who would otherwise be disconnected from consistent support.
We empower our clients to accomplish their individual goals, build community, pursue their passions, and find their own paths to happiness and stability. We believe that there are no limits to what our clients can achieve, and that everyone deserves the chance to build an outstanding life.
Begin to Build a Relationship
We know you care about where your money goes and how it is used. Connect with this organization's leadership in order to begin to build this important relationship. Your email will be sent directly to this organization's Director of Development and/or Executive Director.
"The Five Bridges Foundation provides financial and consultative support to nonprofit organizations in the Bay Area who have a core mission of supporting TAY youth. We have partnered with ATC for over a decade as they have shown their unwavering commitment to helping the most vulnerable and at-risk segment of this population. Their commitment to meeting their clients 'where they are' and to truly cultivating personal connections that let the individuals know they are heard, valued, and have an advocate in their corner is, we believe, the first and most crucial step towards positive outcomes. We are excited and proud to continue our partnership in the years to come."
Help Young People Find Housing — And Thrive in Life!
To celebrate their 25th anniversary, At The Crossroads is raising $25,000! This support will be earmarked for new client centered solutions and to expand to new outreach routes.
ATC clients shared their own ideas and solutions for homelessness during a special focus group this year. With your support, ATC will pilot two of their ideas in 2023, further centering client voices in their work.
As they walked their traditional routes, ATC Outreach Counselors noticed the pandemic displaced many people into different areas of the city. With your support, in 2023 ATC will explore and expand to new outreach routes.
Due to the many obstacles that come along with government funding, ATC focuses primarily on donors like you to support their unique approach. In fact, only 6% of their $1.2M budget comes from the government. This allows them to keep their services individualized and client centered; and also allows them to focus on partnering with community members like you to solve homelessness with compassion.
Your support this year will help build a Bay Area where our unhoused neighbors have the support they need to thrive.
Key Supporters
Charlotte Johnson
Whitney Wineroth
Hai Truong
The Moca Foundation
Five Bridges Foundation
Matthews Asia
Bella Vista Foundation
Hellman Foundation
Full Circle Fund
Illinois No. 3 Foundation