January 2022 Update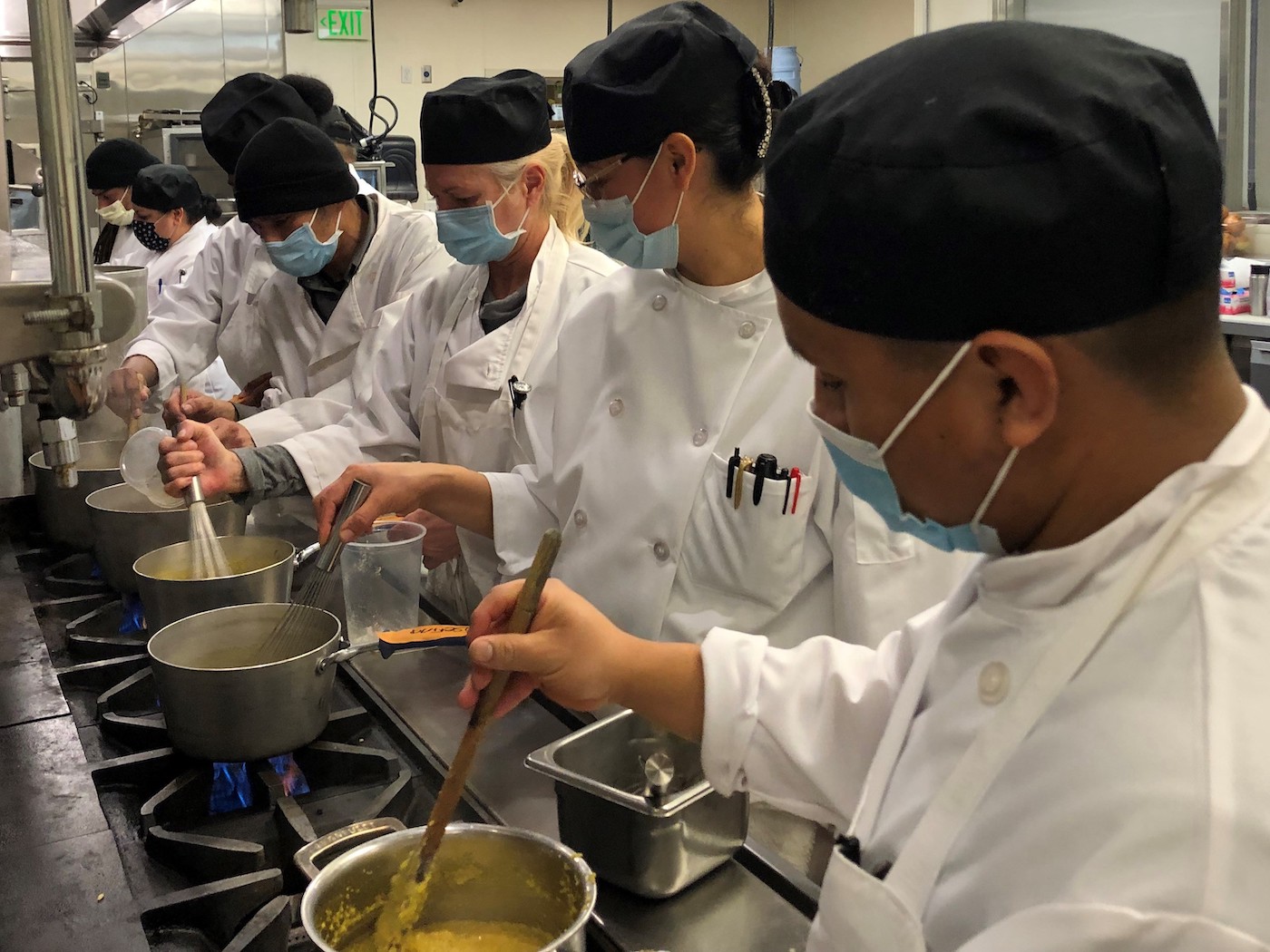 We've laid a table at Homeward Bound with inspiring events for 2022, starting with a graduation for trainees at Fresh Starts Culinary Academy on Jan. 21.
The class set to complete training this week is the first to enroll since COVID-19 forced Homeward Bound to pause the award-winning program that usually serves up to 60 students each year.
"We are so grateful to finally launch new graduates for the food industry. It is remarkable to witness their growth and enthusiasm as they gain confidence in their new culinary path!" says Mary Kay Sweeney, Homeward Bound's executive director.
Fresh Starts Culinary Academy opened in 2001 with just two or three students working alongside our professional chef in a small shelter kitchen. Since 2008, the program has operated from a purpose-built, fully equipped training kitchen next to our main office.
The 10-week intensive training course enrolls students from the local community as well as residents of Homeward Bound programs. We offer this hands-on program without cost to eligible students interested in a culinary career.
With Chef Instructor Andrew Wild, students learn core skills for cooking everything from pancakes to fish as well as how to create menus, size recipes, plate a dish, set a table and serve guests. The course includes job placement support.
Students advanced to the closing week in the kitchen by cooking a final menu to showcase their skills and serving it to a tasting panel.
"This has been a fun class. I feel really prepared and ready to go," says Malcolm, a student who will receive his Certificate in Culinary Arts. Our course is approved by the American Culinary Federation.
The keynote speaker for the graduation has traveled in their footsteps. Chef Janin Harmon graduated in 2018 and now works as executive chef at Mary Isaac Center in Petaluma, a Sonoma County program offering meals, shelter and housing services for people experiencing homelessness.
Chef Janin began working in restaurants in her teens, stretching the budget for a family that often called on the food bank for extra groceries. "I had a lot of experience, but there was so much that I gained from Fresh Starts," Janin says. "It was life-changing for me."
Donate now!
www.hbofm.org
(415) 382-3363 x216
Development Director: Corry Kanzenberg
Mission
Our mission of "opening doors to safety, dignity, hope and independence" is coupled with a vision that "everyone deserves a place to call home." Founded with a single family shelter in 1974, Homeward Bound has evolved to become a leading force in ending homelessness in Marin County. Services include counseling, job training, and workshops on parenting, credit repair, money management and other life skills. Fresh Starts Culinary Academy forms the heart of our training program and ties closely to our social enterprise ventures.
Begin to Build a Relationship
We know you care about where your money goes and how it is used. Connect with this organization's leadership in order to begin to build this important relationship. Your email will be sent directly to this organization's Director of Development and/or Executive Director.
My mom worked three jobs and we often counted on food banks. I always worked in restaurants since I was a teenager. Even when my husband and I had our own business, it helped stretch the budget with our kids. When the wildfires happened, everything shut down – my job disappeared. It was my chance to go to Fresh Starts Culinary Academy at Homeward Bound, which I knew about but I never had the time. Even though I had a lot of experience, there was so much that I gained. It was life-changing for me.
Help Open Homes for Heroes
Building new apartments for 24 unhoused veterans in Novato is the latest campaign by Homeward Bound of Marin in its quest to end homelessness in Marin County.
That goal has never been more urgent, with the National Library of Medicine noting the average lifespan of an unhoused person is 17.5 years shorter than that of the general population.
"It just got to be real hard," says Andrew, a veteran who received help from the organization. "If Homeward Bound wasn't there, I probably wouldn't be here anymore."
With a gift of $1,860, you can provide a month of accommodation and support for a veteran, senior, or other individual facing the crisis of homelessness.
Your gift of $25,000 helps complete the new housing for veterans, with naming rights for one of 24 apartments scheduled to open in 2024.
Your gift of $1,000,000 includes the exclusive opportunity to name the veterans building.
Key Supporters
BioMarin Pharmaceutical
Built for Zero
Catalyst Kitchens
Chef John Ash
Chef Heidi Krahling
Chef Joanne Weir
County of Marin
Disabled American Veterans
Charitable Service Trust
Dominican Sisters of San Rafael
Sammy Hagar
Harbor Point Charitable Foundation
The Hellman Foundation
The Jacques Pépin Foundation
Kiosk
Marin Charitable
Marin Community Foundation
Peter E. Haas Jr. Family Fund
REDF
Tamalpais Pacific
Valley Oak Wealth Management