Brady Responds To Remarks By President Biden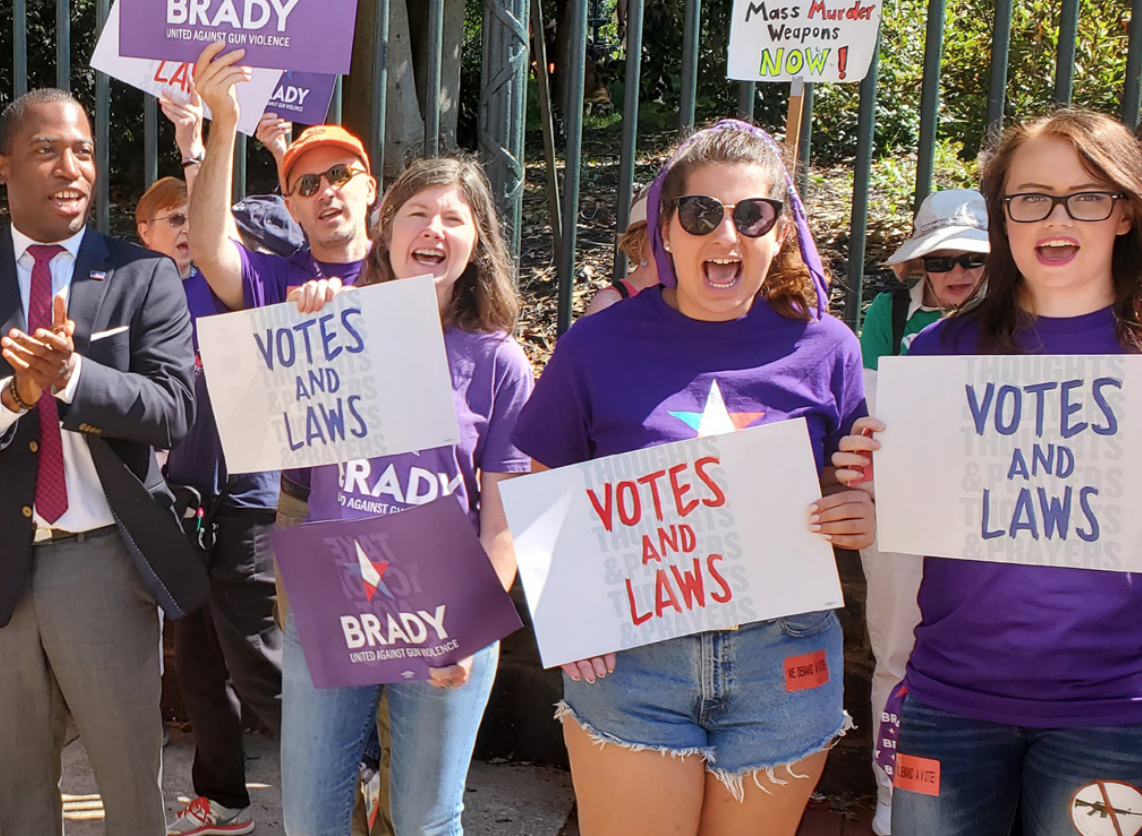 Brady released a new report and a webpage on the "Origin of an Insurrection: How Second Amendment Extremism Led to the January 6 Capitol Attack" as well as a social media toolkit.
The report focuses on the interplay between white supremacy and Second Amendment extremism, and two of our Brady grassroots chapters arose from that very intersection:
1. The Cleveland School Remembers/Brady Stockton Chapter – stemmed from the 1989 Cleveland Elementary School shooting in Stockton, CA, in which a white supremacist attacked Southeast Asian Refugees, killing 5 school children. Surviving teachers started the chapter. See more here: https://ca.bradyunited.org/
2. The Brady San Fernando Valley Chapter – stemmed from the 1999 shooting at the Jewish Community Center in Granada Hills, CA that injured two of our Chapter members' children and killed a postman. This incident was the impetus for the Million Mom March. See more here: https://ca.bradyunited.org/
The ideology behind these incidents – that gun holders have the right to go on the offensive against perceived threats, was very much alive on January 6, 2020 and it remains active today. We hope that you will read the report to understand why and learn how we can take action to stop it.
Brady's new report, Origin of an Insurrection: How Second Amendment Extremism Led to the January 6 Capitol Attack contextualizes the 1/6 attack amid the decades-long extremist effort by the American gun lobby to push for an insurrectionist re-definition of the Second Amendment. The report provides policy recommendations for Congress and warns that in order to stem future violence, we must renounce Second Amendment extremism and address its many contributions to the nation's epidemic of gun violence.
Check out the report: https://www.bradyunited.org/reports/january-6-gun-extremism
Brady Responds To Remarks By President Biden, Vice President Harris On Anniversary Of January 6 Insurrection
Brady joins President Biden and Vice President Kamala Harris in calling for immediate action to safeguard our democracy, including passing meaningful voting rights legislation, on the anniversary of the January 6, 2021 violent riot at the U.S. Capitol. This action must likewise include comprehensive gun violence prevention and gun safety reforms. The threat of armed extremism remains an existential threat to national security, public safety, and our democracy, as outlined in Brady's report 'Origin of an Insurrection: How Gun Extremism Led to January 6.'
Brady President Kris Brown shared:
"This morning, President Biden and Vice President Harris called on Congress to band together and safeguard our democracy. This is our most urgent challenge. We must demand that Congress pass meaningful and comprehensive voting rights legislation to secure a truly democratic government that represents the will of all Americans and a country that meets our highest ideals rather than accepting injustice and division created by extremism and white supremacy. We must also demand that our leaders pass common-sense legislation to prevent armed extremism from threatening our democracy. As President Biden asked today, 'Are we going to be a nation that accepts political violence as a norm?' The answer to this question must be no. Armed extremism is an existential threat to our democracy and our democratic processes – and did not begin or end with January 6. As FBI Director Christopher Wray testified before Congress, 'the problem of domestic terrorism has been metastasizing across the country for a long time now and it's not going away anytime soon.' We must confront this reality. Today's anniversary is a wake up call to do so."
About Brady's Report on the January 6 Insurrection:
'Origin of an Insurrection: How Gun Extremism Led to January 6,' confronts how the common narrative around the January 6, 2021 riot at the U.S. Capitol frequently omits the role of Second Amendment extremism. This report traces how the "insurrectionist" construction of the Second Amendment, which falsely asserts that the right to keep and bear arms necessarily includes the right to take up arms against the government, has festered and taken hold in the mindset of popular culture, threatening public order and safety by fueling domestic extremism. This report sets out to examine the role U.S. gun culture and policy played in laying the foundation for January 6, and why it is necessary to address this reality head-on in order to prevent more violence and bloodshed in the years to come.
Donate now!
www.bradyunited.org
(202) 370-8149
Gun Violence Survivor & Vice President of Development and Partnerships: Liz Dunning
Mission
We're uniting people from coast to coast, liberal and conservative, young and old, fed up and fired up, to end gun violence.
Begin to Build a Relationship
We know you care about where your money goes and how it is used. Connect with this organization's leadership in order to begin to build this important relationship. Your email will be sent directly to this organization's Director of Development and/or Executive Director.
Talk is the least we can do, which is why Brady's work is so important. They're taking action to curb gun violence in achievable, common sense ways by emphasizing education, litigation, and legislation, and by recognizing that gun violence affects everyone in our country, and does outsized damage within black and brown communities.
Invest in Our Safety
More likely than not, your life has somehow been touched by gun violence. Whether it's your children experiencing lockdown drills or the loss of a loved one, firearms and the human suffering they cause have reached epidemic levels. 
To staunch the bleeding requires expertise, dedication, and money.
Brady is unabashed in its request of you, the donor. It needs $2 million to fuel its End Family Fire campaign this year.
Your donation pays for research to target the audiences that most need to hear Brady's message, to produce the advertisements and to provide training for clinicians about how to talk about the risks of guns in the home and safe storage with patients.
"The next school shooter could be stopped. The suicide that you don't know your teenager is contemplating with the gun in your closet can be stopped with this campaign," says Brady President Kris Brown. "And even if it saves just one life, the investment will be worth it."
Key Supporters
NORTHERN CALIFORNIA RLC:
Marita Daly (Past Chair)
Pellie Anderson (Co-Chair)
Kath Tsakalakis (Co-Chair)
Ben Bartlett
Jeff Bleich
David Bray
Johanna Carney
Anne Ching
Randi Curhan
Kris Dyszynski
Jenny Fannin
Eric Havian
Steve Henry
Dan Horn
Dennis Joyce
Pam Kosinski
Nick Kenig
Coach Steve Kerr
Sonja Caldwell Kos
Kira Dahlgren Lancaster
Reginald Lee
Mark Linton
John Maa
Dennis Mulqueeney
Christina Nooney
Jeanette Pavini
Jonathan Parkhurst
Michael Plimack
Kari & Tom Rocca
Steven Roland
Michael Ronen
Juana Schurman
Louise Serio
Steve Sposato
Eric Swergold & Dawn Dobras
Brittany Votto
Joyce Wang
Saeri Yuk