Rescue Dogs. Rescue People.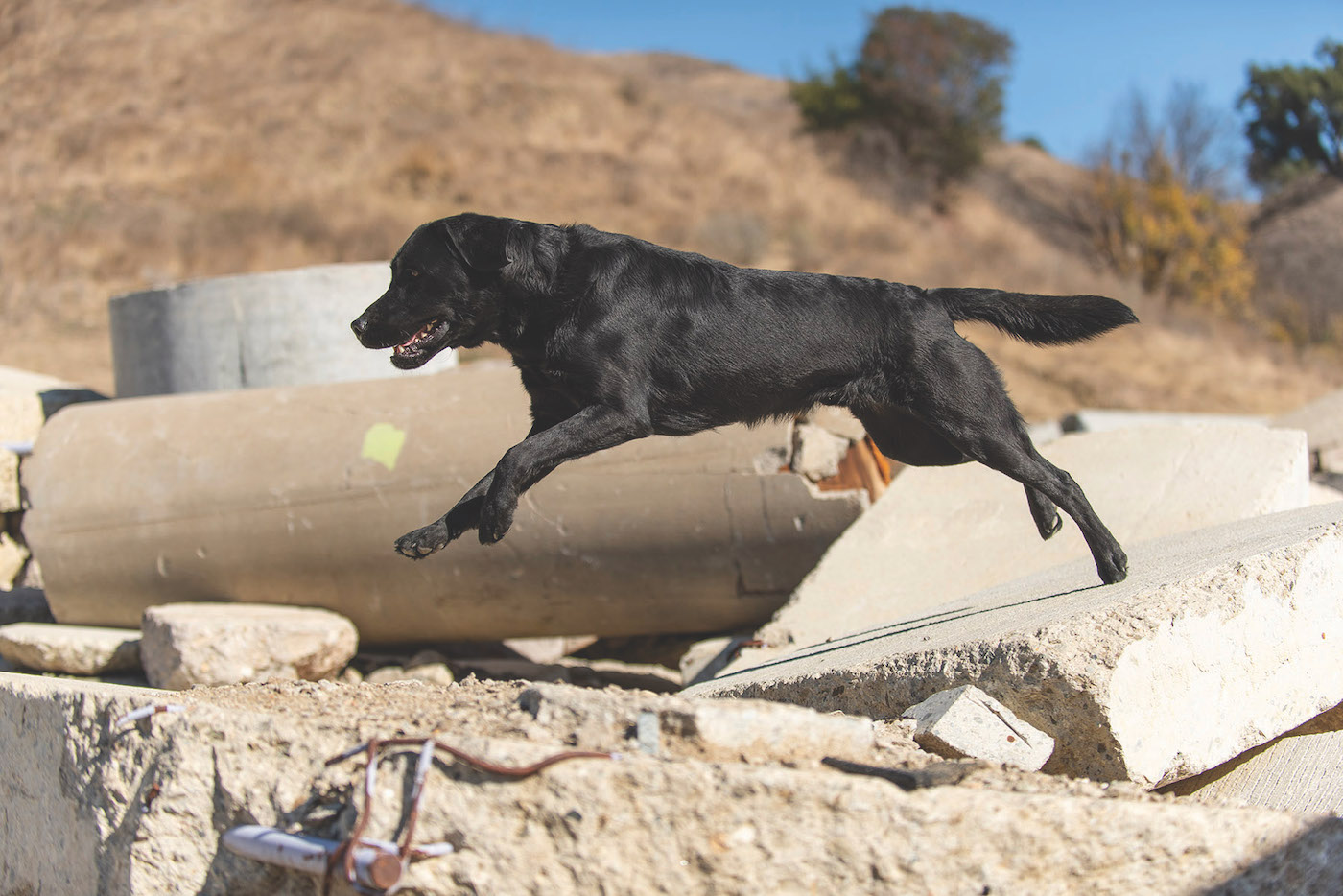 Although you'll seldom see them in comic books, search dogs are the closest thing to real life superheroes. Not only do they rescue people from crumbling buildings and sunken towns, but they also have a life-saving superpower: a wickedly sensitive nose that can detect and locate disaster victims from hundreds of yards away.
Events such as our local 2018 beach cliff collapse remind us how important search dogs are to life-and-death rescue missions. But these canine superheroes wouldn't be nearly the paragons they are without the proper training. For the elite dogs skilled-up by the National Disaster Search Dog Foundation, this means boot camp in the nonprofit's staging facility in the sprawling hills of Santa Paula, California. 
The foundation was started by Wilma Melville in response to the devastating 1995 Oklahoma City Bombing. Melville and her search dog Murphy were one of many search and rescue teams wading through the rubble that day. But the destruction was greater than anyone could have anticipated. Melville knew then that, as a civilian, she was not as well equipped for search and rescue as a first responder or firefighter would be. In the wake of what she'd seen, Melville made it her mission to pair highly trained search dogs with experts in disaster relief.
Twenty-five years since its inception, the foundation continues to stay true to its mission: Rescue dogs. Rescue people.
"It was Wilma's vision to rescue dogs and pair them with firefighters with specialized training," says Denise Sanders, Senior Director of Communications & Handler Operations. Most of the dogs that come to the nonprofit are rescued from shelters, where many face euthanasia. Once on campus, the foundation's caring staff provide the dogs with life-long medical support and a specialized training regimen that prepares them for the day they are paired with a handler. From there, the human-canine search teams train together on a variety of simulated natural disasters.
While robots have a place in disaster rescue operations, nothing compares to the combined skill of a highly-trained dog and its partner.
"Robotics and machinery are getting better. Technology is getting better," Sanders says. "But dogs are still the best resource that an urban search and rescue task force has to quickly locate victims buried in the rubble."
First responders depend on these dogs because they can accomplish what no available technology can. The dogs can move over all terrain, provide emotional support to disaster victims, and, critically, the dogs can survey a disaster area more quickly than any robot.
When time is of the essence, first responders rely on their dogs to locate disaster victims safely and efficiently. Although human-canine search and rescue teams are challenged by each deployment, where they must enter a new and unpredictable disaster situation, these life-saving task forces are bolstered by their world-class preparedness training at the Search Dog Foundation.
Donate now!
www.SearchDogFoundation.org
(888) 4K9-HERO
(805) 646-1015
Executive Director: Rhett Mauck
Mission
Our mission is to strengthen disaster response in America by rescuing and recruiting dogs and partnering them with firefighters and other first responders to find people buried alive in the wreckage of disasters.
Begin to Build a Relationship
We know you care about where your money goes and how it is used. Connect with this organization's leadership in order to begin to build this important relationship. Your email will be sent directly to this organization's Director of Development and/or Executive Director.
Over the years, the Search Dog Foundation has paired many canine disaster search teams that serve the Bay Area and we are grateful to have these canines as a resource to call upon when needed for our urban search and rescue team as part of the San Francisco Fire Department and California Task Force 3. The search dogs are a vital part of any deployment response – whether earthquakes, hurricanes, mudslides, or missing person searches, these highly trained canines are instrumental in completing our search missions. The Search Dog Foundation provides these canines as invaluable assets for our department and part of Task Force 3 free of charge, ensuring we stand ready to serve our community when called upon to help.
What We Need: Future Canine Heroes For America
The frequency and strength of recent disasters are stark reminders that they can strike at the heart of any community. In the search for victims, a search dog's remarkable nose and hard-earned skills mean the difference between days versus minutes, lost versus found, uncertainty versus hope. The National Search Dog Foundation (SDF) works diligently to ensure canine search teams across America can deploy at a moment's notice when needed, which includes preparing the next generation of canine heroes.
From the day they arrive on campus to the day they are paired with first responders, SDF spends approximately $60,000 to train a search dog over 10 to 12 months.
SDF is raising $1,020,000 to train the next search dog graduates. Donors at $20,000 and above can become sponsors of a search dog in training, receiving updates on their progress and milestones throughout their career. Sponsor one or even a pack of canine heroes to be Part of the Search!
Key Supporters
BOARD OF DIRECTORS
George Leis – Board Chair
President and COO,
Montecito Bank & Trust
Richard Butt – Board Vice-Chair
Retired EVP, Executive Creative Director, VMLY&R
Mike J. Diani – Secretary
President, Diani Building Corp.
Christine DeVries
Management Consultant
Robert Harris
Battalion Chief, Los Angeles
County Fire Department
George R. Haynes, Ph.D.
CEO, National Disaster
Search Dog Foundation
Crystal Wyatt
Leadership in Board Governance and Creative & Sustainable
Philanthropy