Helping Formerly Homeless Vets Age with Dignity and a Strong Dose of Joy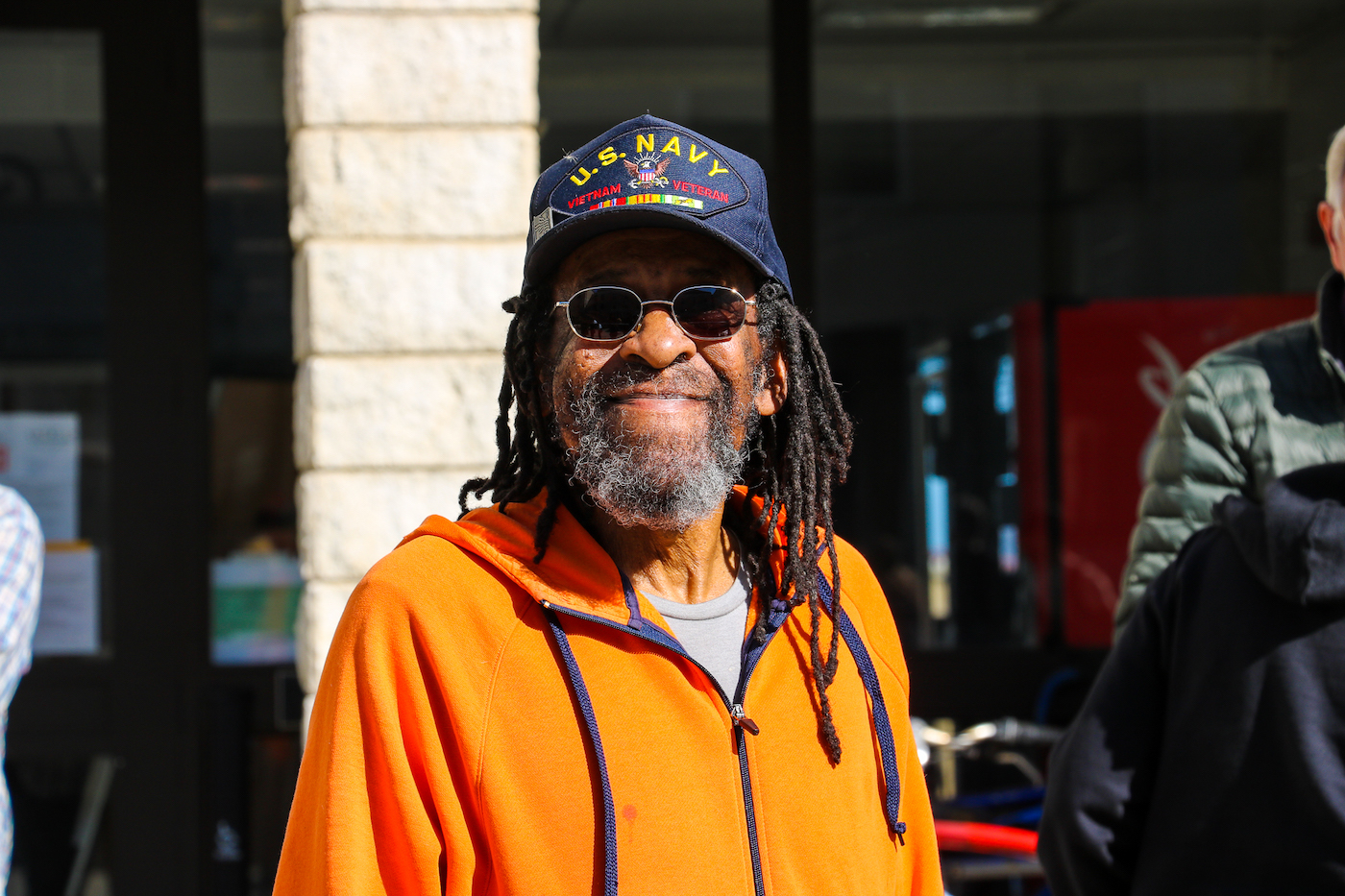 Getting older is an isolating experience for anyone. For disabled and formerly unhoused veterans of a largely forgotten war, it's especially lonely and challenging.
Swords to Plowshares has been serving veterans in the Bay Area with jobs, legal assistance, mental health support, and housing since the 1970s. Its Executive Director Michael Blecker, a Vietnam vet himself, has made addressing veteran homelessness his legacy. As he ages, he knows ever more intimately how lucky he is compared to many of those he fought alongside.
"They have nowhere to go," says Colleen Corliss, resource development and communications director at Swords to Plowshares. "There's not a system to care for people who are really poor and aging."
Swords to Plowshares is in the process of expanding their offerings to meet the needs of the oldest residents in the 500 permanent housing units they maintain. The majority are home to Vietnam-era vets, all of whom have at least one disability. 
"We need to set up a system that lets them age in place, with dignity," Corliss says. A new statewide pilot program to support seniors in affordable housing will help Swords grow their on-site staff – adding transportation help and social workers among other roles. But as the pandemic proved, the mental health costs of long-term loneliness are harder to anticipate.
One longtime resident of Swords to Plowshares' housing in the Presidio – which was the first-ever permanent housing facility for formerly homeless veterans in the country when it opened in 2000 – is a vet named Sam who became homeless when he lost everything to Hurricane Katrina. At a roundtable discussion with residents, Sam summed up the value of community. They used to have breakfast together in the morning but had to adjust practices amid the pandemic – and Sam reflected on the loss, saying, "This may sound silly, but mental health care is about having a reason to wake up and get out of your room and walk down the stairs and see other people. It's the eggs and the toast and the bacon, that's what mental health care looks like."
Swords to Plowshares recorded a 30-percent increase in morbidity during the pandemic – meaning 30 percent more of their community died than in an average year. Not a single one of them died of COVID. "We feel strongly that it's a result of isolation," Corliss explains.
Responding to these veterans' needs flexibly and creatively means more than just hiring caregivers and staffing up. Some donors give tickets to Giants games. Another is giving sailing lessons. While others give dedicated grants to support a stable and reliable community activities budget and staff.
"The activities that build community are what we need the community to support," Corliss says.
Donate now!
www.swords-to-plowshares.org
(415) 655-7248
Development & Communications Director: Colleen Corliss Murakami
Mission
War causes wounds and suffering that last beyond the battlefield. Swords to Plowshares' mission is to heal the wounds of war, to restore dignity, hope, and self-sufficiency to all veterans in need, and to prevent and end homelessness and poverty among veterans.
Begin to Build a Relationship
We know you care about where your money goes and how it is used. Connect with this organization's leadership in order to begin to build this important relationship. Your email will be sent directly to this organization's Director of Development and/or Executive Director.
I lived on the streets of San Francisco for almost 20 years. I know what it's like to have no idea how to embrace stability and community or how to prepare for the challenges that will come with aging, especially while poor and riddled with health issues from living hard on the street. When I was finally ready to turn my life around, Swords to Plowshares helped me get the best gift of all: housing.
Help Vets Find the Joy They Deserve
Through the help of private donors, Swords to Plowshares has established a budget for community activities. Monetary donations to this fund allow aging vets to experience a taste of normalcy that can meaningfully enrich the quality of their lives.
Donors are in a unique position, according to Resource Development and Communications Director Colleen Corliss. "These contributions are essential to our ability to staff and execute programs that have the potential to change lives."
Getting the vets active and out of the housing facilities Swords runs is a priceless gift. Sports games, season tickets donated by an individual with the means to make it happen, have been a great escape for the residents.
Activities that make them feel like they are included in the day-to-day fabric of American life is a win.
Key Supporters
Ron Conway
John Keker
Craig Newmark Philanthropies
San Francisco Giants
Golden State Warriors
Wells Fargo
Bank of America
Prudential Financial
Home Depot Foundation
Sergey Brin Family Foundation