For Foster Youth, Unity Care Means Home Sweet Home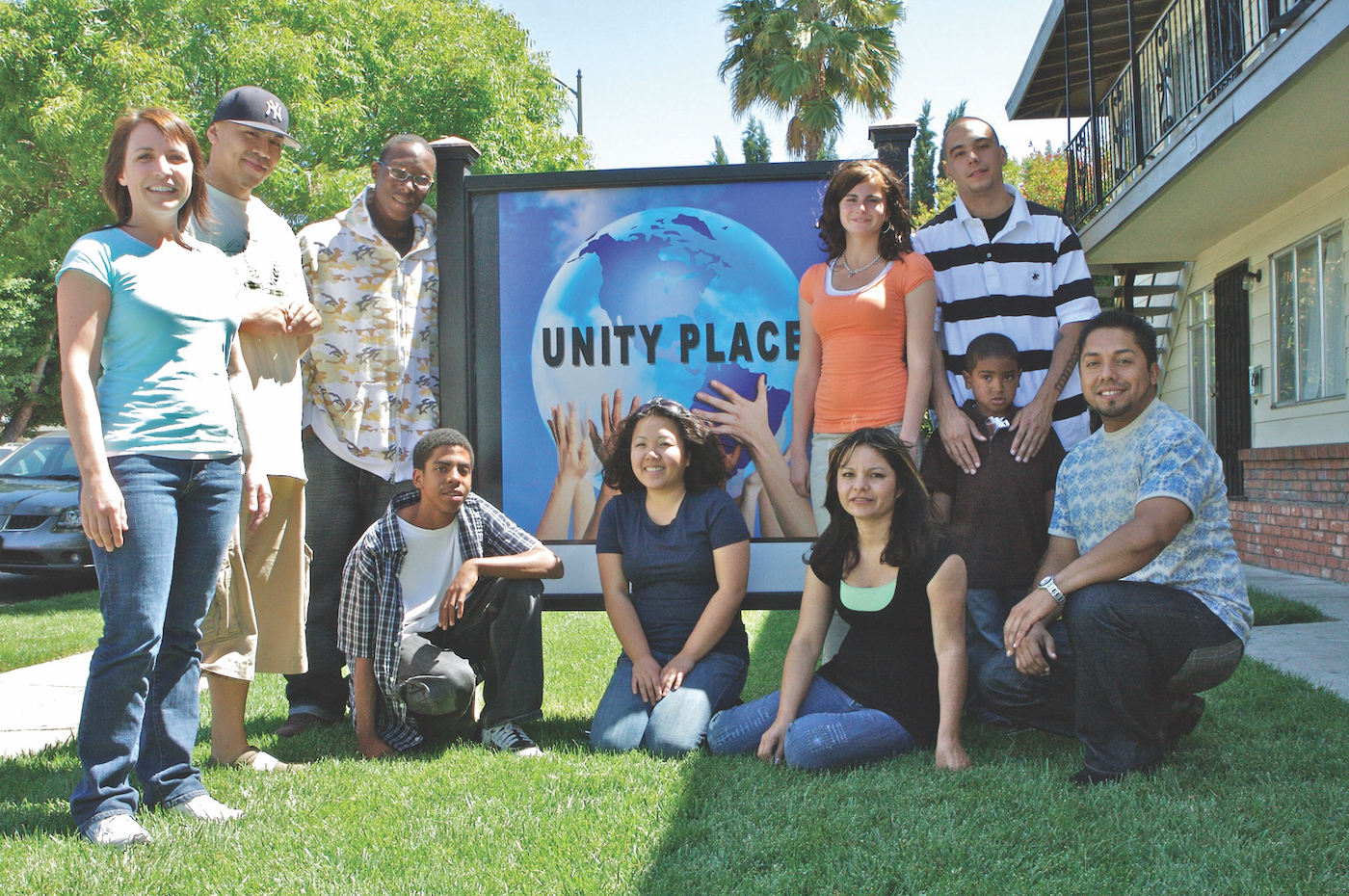 Two decades ago, André V. Chapman was torn between his executive sales job in Silicon Valley and a nonprofit he'd formed to help foster kids.
His decision to hang up his high-tech hat to focus on Unity Care Group came during a private dinner held at the Fairmont San Jose – and a prayer by the late Coretta Scott King, wife of the late civil rights leader.
"She said, 'I'm going to pray for you: because you are going to help thousands and thousands of foster kids,'" recalls Chapman.
He has. For the past 28 years, Unity Care, a San Jose-based agency has helped tens of thousands of young people and their families in foster care by providing stable housing, mental health services, caring connections, and valuable life skills.
Beginning with one kid and one home in 1993, Unity Care expanded across nine counties in the Bay Area and the Sierra Foothills to provide homes and services for up to 7,500 foster youth and families each year.
Left to their own resources, youths who "age out" of the foster system have disproportionately high rates of joblessness, homelessness, and incarceration.
Over the years, Unity Care has received countless awards, and remains undeterred in his battle to help underserved foster youth.
"We want people to lean in and join us in this fight – to make sure no young person leaving foster care ends up homeless," Chapman, a father of six, says.
Three years ago, however, Unity Care began a merger with a larger non-profit but soon called it off to focus on expanding its housing capacity. The agency pivoted under the guidance of a three-year program initiated by the Edna McConnell Clark Foundation. PropelNext assists promising non-profits in strengthening their capacity to use data for learning, self-evaluation, and ongoing program improvements
Rather than merging, Unity Care returned to its roots and core strengths – housing. It spun off its community-based programs to focus on three key housing programs.
Unity Care now offers a continuum of housing for 150 transitional foster youths at risk of homelessness.
It owns five apartment complexes, with 35 "dorm-style" units, plus a newly purchased 10-unit home in downtown Oakland. It has 12 shared homes. And it has more than 20 affordable apartments set aside by developers.
Alex was a formerly homeless foster youth whose dad was in and out of jail, his mother living in the streets. He thrived at Unity Care's transitional housing, earning his GED and landing an internship with Hewlett-Packard.
"Without Unity Care, I would've been stuck on the streets," Alex says. "I received the skills I needed to work towards and achieve my goals, and learned how to take initiative, and how to problem solve."
Chapman says he hopes to double the agency's housing capacity within five years.
"The biggest issue is not being able to have a home," Chapman says. "The costliest place in the nation is right here. So you can imagine what it's like to be a foster youth. Every day you worry about where you're going to live. So you can't focus on going to school, your mental health, or work. You focus on survival."
Donate now!
www.unitycare.org
(408) 971-9822 x4140
Director of Strategic Partnerships: Tatiana Colon
Mission
We transform the lives of young people in and emerging from foster care by providing stable housing, caring connections, and life skills that build a foundation to achieve their potential.
Vision
Unity Care is the nurturing home that embraces, heals, and transitions foster youth toward adult lives of independence, wellbeing, and purpose. We are leading the way to eradicate homelessness and inspire hope for
Begin to Build a Relationship
We know you care about where your money goes and how it is used. Connect with this organization's leadership in order to begin to build this important relationship. Your email will be sent directly to this organization's Director of Development and/or Executive Director.
Unity Care allowed me to stay motivated, it allowed me to stay driven. It allowed me to see that it was possible for me to do something. The staff at Unity Care were pretty much just like me, just a couple years older and in college, so I always felt that if they were happy, I could be happy too – I just have to get out of this hump and survive the next hump. Thank you for giving me motivation and keeping me safe when I was a kid, and giving me somewhere to call home.
Pandemic Puts Dent on Home Renovations and Upkeep
Unity Care is seeking to raise $500,000 to pay for renovations, upkeep, and furnishings at its foster youth homes and apartments, which have seen far fewer donations and voluntary repairs during COVID, Chapman says.
The donations would go toward move-in kits for foster youth, new paint, carpet, and furnishings, as well as kitchen utensils and computers for online education. They would also help spruce up outdoor landscaping.
"They need TLC," Chapman says. "So every one of our locations need a home makeover, everywhere these young folks live."
Key Supporters
Bella Vista Foundation
Bothin Foundation
California Department
of Financial Protection and Innovation
Chan Zuckerberg Foundation
City of San Jose
County of Alameda
County of Placer
County of San Francisco
Edna McConnell Clark Foundation
El Dorado Community Foundation
Fund for Shared Insight: Listen4Good
The Health Trust
Jack and Jill of America: San Jose Chapter
Placer Community Foundation
San Francisco Community Foundation
Saratoga Federated Church
Silicon Valley Community Foundation
Sobrato Family Foundation
Tipping Point
Walter S. Johnson Foundation
Winifred Johnson Clive Foundation