Giving Female Intimate-Abuse Survivors a Second Chance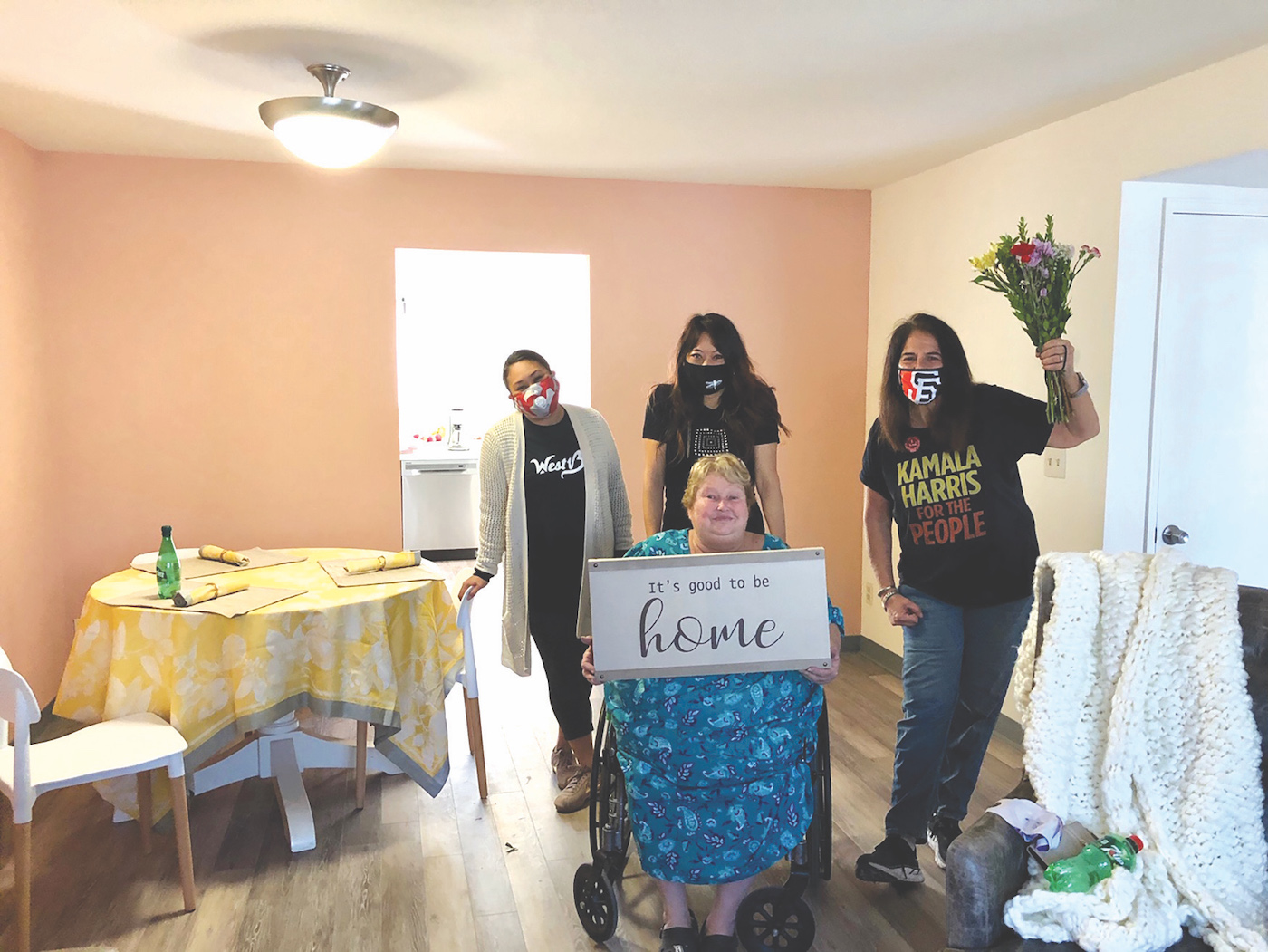 Rosemary "Rosie" Dyer spent 34 years behind bars for fatally shooting an abusive husband who'd dug a pit in which to bury her alive.
Then the wheelchair-bound inmate was commuted from a lifetime prison sentence following a legal review of the savage domestic abuse she had endured for years.
With no place to go upon her release, Dyer was warmly welcomed at Five Keys Home Free, the first transitional housing program in the nation for formerly incarcerated survivors of domestic violence.
"It's a renewed life," says Dyer, 68, of her new home. "If it weren't for Home Free, I'd probably be living in a cardboard box somewhere."
The Home Free residence opened its doors in Fall 2020 for up to 12 women in a converted apartment building on Treasure Island in the middle of San Francisco Bay.
These new, promising beginnings for women like Dyer come as a result of a Home Free initiative by Five Keys Schools and Programs, a jail-based charter school with 25 in custody locations, and workforce program founded in 2003 by the San Francisco Sheriff's Department. The public agency has now expanded to community teaching sites in 11 counties, to serve over 30,000 students across California, and provides housing for the unsheltered at nine sites in San Francisco.
Its vision of restorative justice aims to help adult students locked up in jail earn a high school diploma and reintegrate into society upon release. To prepare its students for reentry and decrease chances of recidivism, Five Keys offers a range of vocational and technical training certificates, as well as programs in financial literacy, bike repair, construction, masonry, print shop, pet grooming and more.
It offers literacy courses, special education programs and college dual-enrollment, plus parenting and substance abuse recovery programs.
In the community sites, Five Keys offers free GED and high school diploma pathways for anyone ages 16-96 to complete their education.
Five Keys Home Free creates supportive transitional housing for abused women who leave prison so they can re-enter communities. There are plans for a second Home Free site in Los Angeles.
For years, women such as Dyer served prison time for either defending themselves against their abuser or because they were at the scene of a crime under the coercion of their abusive spouse or boyfriend. They were often forgotten.
In 2012, criminal justice advocates pushed legislation allowing imprisoned women, who were barred from submitting evidence of their abuse at trial, to seek legal review of their extreme sentences.
Home Free expects to serve a wave of newly commuted women exiting prison after 10 to 40 years.
"This is righting a terrible wrong that was committed against these women," says Five Keys Co-Founder Sunny Schwartz.
Dyer had no criminal history, no history of violence, no history of drug or alcohol use, and no clue that the man she married would turn out to be a monster. There were countless beatings. And years of unspeakable physical, sexual, and emotional violence.
She is now home free.
"People ask what it's like getting out of prison, especially in a pandemic," Dyer says. "It's wonderful. That is what I say to myself every day. It's wonderful."
Donate now!
www.fivekeyshomefree.org
(415) 734-3310
President and CEO: Steve Good
Mission
To help support domestic violence services, educate the community about coercive control, push for the behavior to be criminalized nationally, and to provide transitional housing and support for the survivors still hoping to be released from prison.
Begin to Build a Relationship
We know you care about where your money goes and how it is used. Connect with this organization's leadership in order to begin to build this important relationship. Your email will be sent directly to this organization's Director of Development and/or Executive Director.
It's just an amazing birth you've given here to Home Free… This is the beginning and not the end and we're both fierce advocates of social justice.
Five Keys Home Free Needed in Los Angeles and San Francisco
Five Keys Schools and Programs is raising between $3 million and $5 million to help establish a second Home Free transitional housing program in Los Angeles County. The funds would go toward acquiring a hotel or apartment complex of between 25 and 30 units, which would be staffed by a dozen reentry coaches and administrators.
Five Keys Home Free in San Francisco is raising $200,000 in general operating funds to support ongoing programs that include financial and technology literacy, job, and computer training classes.
Key Supporters
Tony Robbins
Tony Robbins Foundation
Google
Chan Zuckerberg Initiative
Anderson Flooring
Williams Sonoma
CBS News Bay Area
First Republic Bank
Morgan Stanley
Silverado Contractors
Chris Larsen Fund
Alex Tourk
Debbie Mesloh