A Bold, Living Monument to a Future Without Violence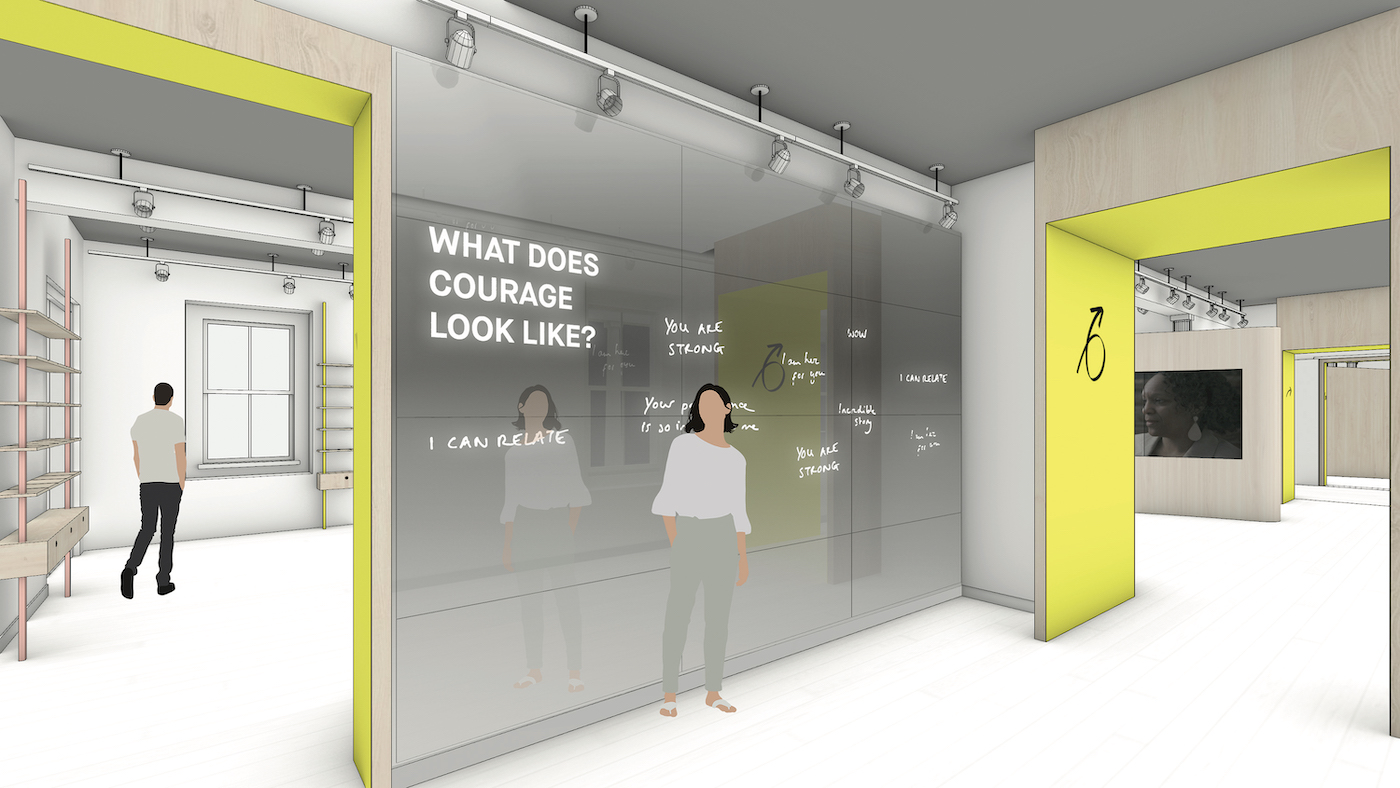 In 2023, on the Main Post of San Francisco's historic Presidio, Futures Without Violence will open the Courage Museum, an immersive series of installations that encourage visitors to realize a world without violence, hate, and discrimination.
The Museum will serve as a bold new platform for public education, inspiration, and action, engaging visitors in a learning journey towards the possibility of a world in which violence is not an inevitable part of the human experience. It will be a place where individuals are informed and equipped with tools to rethink violence and advance concrete change.
"Our goal with the Courage Museum is to engage the public in meaningful ways as intentional actors to change the human condition, from one riddled with trauma and violence, to one that is not," says Futures Without Violence President Esta Soler.
There has never been a national education museum focused on equipping visitors with tools to rethink violence and advance concrete change. Its four anchor installations – "Bearing Witness," "ReThink," "Empathy Mirrors," and "Change Is Real" – explore the science and biology of violence; the connections between violence, discrimination, poverty, race and gender; the transformational impact of empathy; and the everyday actions we can all take to prevent violence from taking place.
And it couldn't come at a more prescient moment. The events of 2020 and 2021 present a unique opportunity to examine the root causes of violence and discrimination and create awareness and activism that can lead to long-term solutions. The urgency of rethinking violence is urgent considering the social and gender inequities that the COVID-19 pandemic and the racial unrest sparked by the murders of George Floyd, Breonna Taylor, and so many others laid bare.
"The Courage Museum is one of the bravest and boldest things that I've heard of in a long time," says Tyah-Amoy Roberts, a survivor of the devastating Parkland School shooting and March For Our Lives Youth Congress Member.
The interactive installations are being designed by Jake Barton, whose works include the 9/11 Memorial and Museum; the Legacy Museum in Montgomery, Alabama; and Greenwood Rising, the recently opened museum memorializing the brutal 1921 Tulsa Race Massacre.
The Courage Museum will not be a static, one-size-fits-all experience. Each museum visitor and/or group will engage with age-appropriate content, stories, and experiences, ensuring all visitors, particularly high school and college students, core audiences for the museum, are presented with information and resources that are relevant and meaningful.
The museum, along with an adjacent memorial to women and girls who have lost their lives as a result of gender-based violence, will also be a national hub for educators, policymakers, direct service providers, cultural influencers, and community leaders looking to expand their knowledge, and become more effective change-makers.
Rachael Smith Fals, who is leading the museum campaign, notes that "many people feel overwhelmed by the scope and pervasiveness of these problems, and simply don't know that solutions for prevention and healing exist all around us, that there are individual and collective actions we can all take to change the culture."
But education is only the first step on the journey, says Smith Fals, who is senior vice president for Futures Without Violence.
"We want people to move from being witnesses and observers, to participants, by finding their own courage to actively engage in solutions."
Donate now!
www.FuturesWithoutViolence.org
www.CourageMuseum.org
(415) 235-2168 and/or (415) 235-5372
Founder & President: Esta Soler
Mission
Futures Without Violence is a health and social justice nonprofit with a simple mission: to heal those among us who are traumatized by violence today – and to create healthy families and communities free of violence tomorrow.
Begin to Build a Relationship
We know you care about where your money goes and how it is used. Connect with this organization's leadership in order to begin to build this important relationship. Your email will be sent directly to this organization's Director of Development and/or Executive Director.
I was a child-bride in an abusive relationship with no way out and nowhere else to go. After each beating, I vowed to do something virtuous if I survived until graduation when I could become financially independent. The work of Futures Without Violence was the vow I made to myself. No organization has done more to reduce gender-based violence, and that's why I'm proud to support FUTURES and the creation of the Courage Museum. FUTURES has successfully engaged problem solvers at every level of society – members of congress, judges, physicians, teachers, parents, students and professional athletes. Every gift I make to FUTURES and the Courage Museum is a gift I make to myself for my life.
Show Your Courage
Futures Without Violence has embarked on a $25 million fundraising campaign to empower new voices for violence prevention, healing, and action.
As a donor-investor or corporate sponsor of the Courage Museum you will be aligned with a cultural institution that embodies the emerging mission of museums and cultural destinations around the world: to serve as places for critical reflection, learning, and action.
All Courage Museum investors will have the opportunity to put their indelible mark on this essential work, one that is especially crucial at a time when society needs a courageous collective effort to confront and change long-standing oppression, indignity, and inequities heightened by the continuing pandemic.
The Courage Museum is part of the promise for a new future: a future without violence.
"The cause speaks to my soul," says Emily Scott, a lead investor. "And the name is perfect, the Courage Museum: courage in the face of violence."
Key Supporters
Diana and Arjun Divecha
Elizabeth and Alan Dye
William Hirsch and Betsy Crabtree
Patti Lee-Hoffmann
Joyce Newstat and Susan Lowenberg
JaMel and Tom Perkins
Deborah Santana
Emily Scott
The Wendling Family
Blue Shield of California Foundation
Nancy Eccles and Homer M. Hayward
Family Foundation
Ford Foundation
Jonathan Logan Family Foundation
Koret Foundation
San Francisco Giants
Vintner's Daughter