'Inspiring the Next Generation of Upstanders'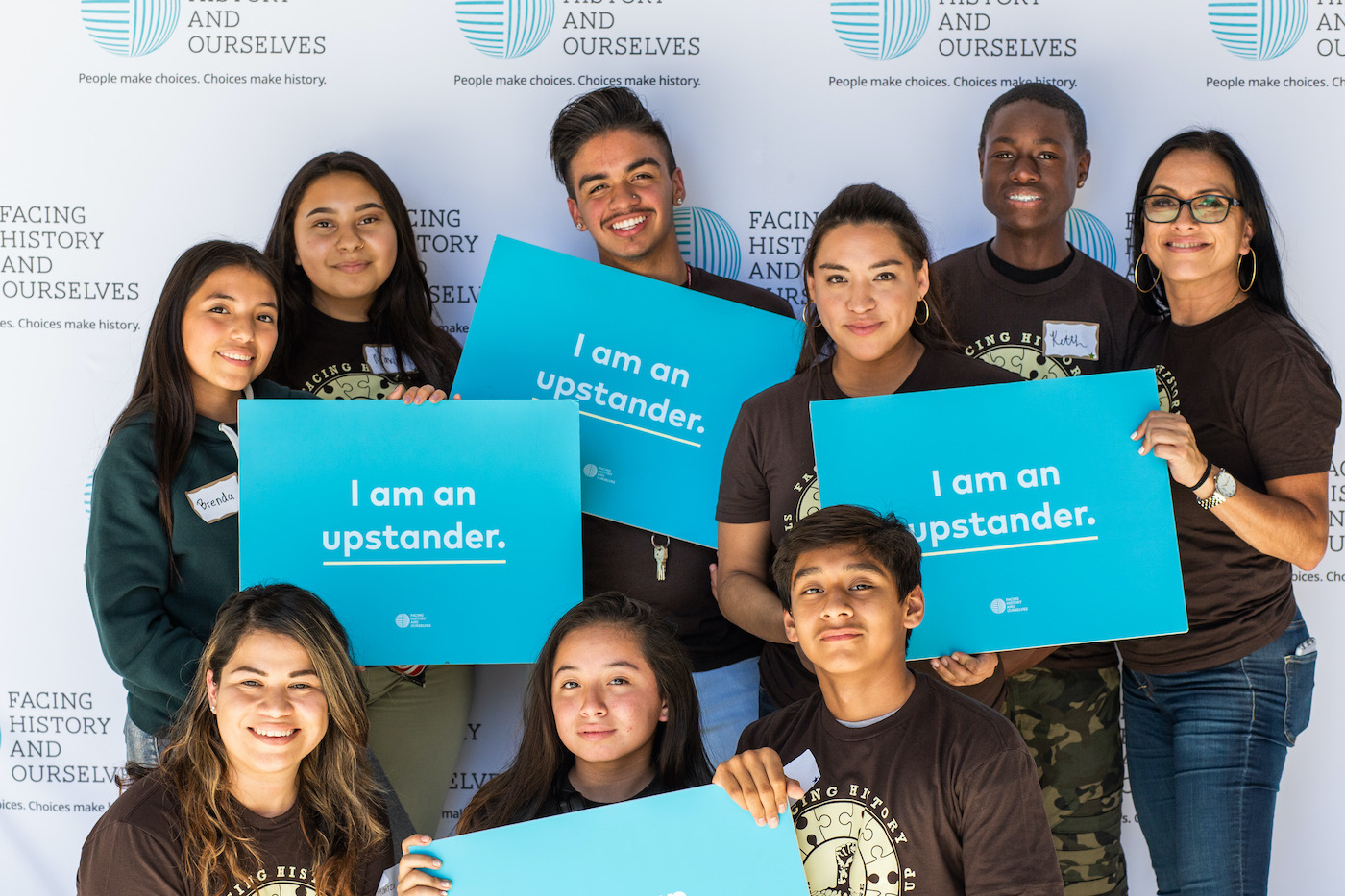 Elaine Guarnieri-Nunn was attending a Facing History and Ourselves seminar about the steps that led to the Holocaust years ago when she had a lightbulb moment.
The then-third year high school teacher heard the story of a student who had been repeatedly bullied at school, but then found herself mocking another bullied girl whose diary was being read aloud behind her back. That story resonated with Guarnieri-Nunn, who recalled that she herself had joined in the laughter when a girl in her elementary class was being teased – something she later regretted.
"I realized at that point that I wanted students to make the connection between the history we study in class and their own lives and the choices they were making every day," Guarnieri-Nunn, executive director of Facing History and Ourselves – Bay Area, says.
The mission of Facing History and Ourselves, which was founded in Massachusetts in 1976, uses the lessons of history to challenge teachers and students to stand up to bigotry and hate. The nonprofit, which has seven regional offices in the U.S. and one in both Canada and the UK, provides student-centered, equity-focused training and curricula to educators, schools, and districts.
"Our core work focuses on pivotal moments in history and literature, difficult histories when communities fractured and when neighbor turned against neighbor, such as the Holocaust, the civil rights movement and current day events such as the debates over immigration or voting rights, as a way for students to reflect on their own choices and decisions," Guarnieri-Nunn says.
The students are asked to examine their own identities and group membership, as well as the concept of "we and they," and then to reflect on historical case studies to understand the choices people made in the past and connect them to how they could make a difference in their communities now, she explains.
"We're really helping to create the next generation of upstanders, those people who choose to make a difference," Guarnieri-Nunn says.
Kobi was a 7th grader at David Starr Jordan Middle School in Palo Alto when he read The Diary of Anne Frank in the class of a teacher who had been trained in Facing History's approach and was using the nonprofit's content resources. He then wrote a report about how his school was named after a prominent California eugenicist.
Kobi, who is biracial, reflected that if Jordan had been alive when he was a student, he may have labeled Kobi feeble-minded or forced him to take an IQ test or be sterilized because of his heritage. Kobi spearheaded the successful effort to get the local school board to change the name of the school to Frank S. Greene Jr. Middle School.
"Facing History teaches you that an upstander is someone who takes action, somebody who isn't just content to sit around and wait for others to do something," Kobi says.
Donate now!
www.facinghistory.org/thegivinglist
(510) 786-2500 x224
Director of Development: Emily Barrett
Mission
Facing History and Ourselves uses lessons of history to challenge teachers and their students to stand up to bigotry and hate.
Begin to Build a Relationship
We know you care about where your money goes and how it is used. Connect with this organization's leadership in order to begin to build this important relationship. Your email will be sent directly to this organization's Director of Development and/or Executive Director.
Facing History classrooms are transformative for students. They learn far more than history. They learn about humanity. Facing History students learn to follow their moral compass and become Upstanders. The world needs more Upstanders – we need more Facing History classrooms.
Help Facing History Reach More Students
Facing History believes young people are ready and able to change the world. They can stand up for good, become critical thinkers, challenge bigotry and hate, engage in their communities, and strengthen democracy. They just need the right tools.
Facing History provides these tools. For 25 years, Facing History has trained and supported Bay Area middle- and high-school educators to connect lessons from history to events unfolding today. We partner with educators, schools, and districts to empower students to stand up and make a better world.
With the shift to virtual classes, a contentious election, and a national reckoning of racial inequities over the past year and a half, more teachers than ever are turning to Facing History for support.
In honor of our 25th year, help Facing History partner with 25 school districts across Northern California. Your investment will train up to 1,000 new teachers to empower their students to challenge the legacies of injustice and create a more just and equitable world. www.facinghistory.org/thegivinglist
Key Supporters
Amy & James Ramsey
Caretha & Ken Coleman
CommonSpirit Health
Hobson/Lucas Family Foundation
Intel Corporation
Judy & Josh Goldman
KLA Foundation
MacKenzie Scott
Maja Kristin
Nancy & Daniel S. Katz
Nina & Ronald Gilson
Shannon Hunt-Scott & Kevin Scott
Silicon Valley Community Foundation
Skoll Foundation
Square
Stuart Foundation
Susie Richardson & Hal Luft
The Engel Family
Walter & Elise Haas Fund
Warriors Community Foundation