Driving Equity Through Artistic Expression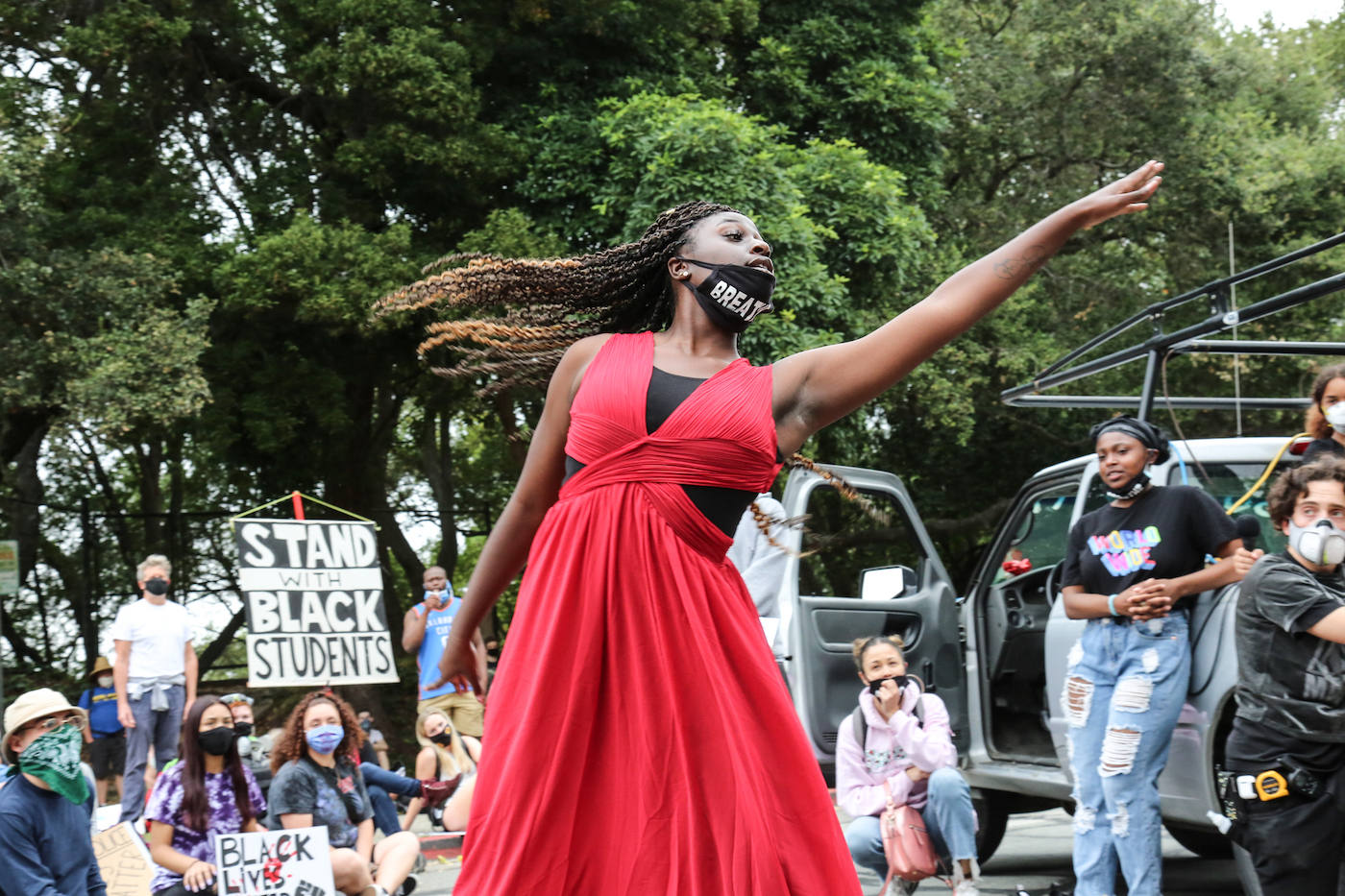 Julia Chigamba, a master Zimbabwean dance instructor, had just begun a performance with a second-grade class at the former Roots International Academy in East Oakland when one of the girls let out a sob. The student's mother had just died, and "Ms. Julia" reached out to hold the child while the other students held hands and began to share their own losses. 
Chigamba is a core teaching artist at Destiny Arts Center, an Oakland-based nonprofit whose mission is "inspiring and igniting social change through the arts." Through their work with more than 2,500 students each year, Destiny Arts helps youth do what Ms. Julia modeled with her students — find community, and their most powerful, authentic selves, through the arts.
"Social change for our youth might be organizing a Black Lives Matter protest," says Archana Nagraj, Destiny Arts Center's executive director, and a social worker by training. "Or it might mean finding the power to stand up for yourself in a classroom, as you become more confident and centered in who you are."
Beginning in 1988, the nonprofit has offered high-quality arts training, mostly in dance, theatre, and martial arts, to East Bay youth. Welcoming and inclusive, staff outreach focuses on those with the least access to arts education, and the practices they teach reflect the cultural diversity of the communities they serve. Destiny Arts Center is a long-standing, consistent presence in dozens of schools and centers throughout Oakland, and their staff and teachers ensure that every family is seen and acknowledged.
Destiny Arts Center is also known for its stunning performances. During the summer of 2020, in response to a moment of racial reckoning, its Youth Performance Company created a series of public dance events in downtown Berkeley in support of youth-led protest. As Shayla Avery, then a rising high school senior, told The New York Times about her ensemble's work: "You have to have levels to the protest. Some people need music and others want to march and chant."
Along with artistic rigor and social engagement, Destiny Arts Center has long focused on the emotional and psychological benefits that students receive through creating art in community. This year, supported by a grant from the William and Flora Hewlett Foundation, they are making this impact more explicit by hiring case managers for the first time, as well as reaching out directly to families to gauge their basic needs.
Nagraj says that during the pandemic, many of their youth experienced a stunning increase in stress, as well as food and housing insecurity. As trusted mentors, Destiny Arts Center's teachers and staff have stepped in to help however they can, even delivering food to families in need.
"What the last 18 months have taught us," Nagraj says, "is that our work is more urgent and necessary than ever."
Donate now!
Six Ways to Support Destiny Arts Center
$15,000
Provides 300 hours of arts programming for an Oakland teen, through the award-winning Destiny Arts Youth Performance Company program
$10,000
Provides 120 hours of arts programming to a Title 1 (under resourced) Oakland public school
$5,000
Funds one month of Camp Destiny for 50 students
$2,500
Provides an arts and movement-based professional development workshop for 30 public school teachers
$1,000
Provides for two weeks of a year-long artists-in-schools residency, twice per week
$500
Supports one month of classes for a student at our North Oakland Center
Mission
Destiny Arts Center believes that art and movement gives young people a vehicle for self and community expression. Founded by Black and Queer dance and martial artists in 1988, Destiny uses movement-based arts to uplift youth voice, supporting pathways for young people to express themselves, advocate for justice and equity, fight against the systemic racism that continues to impact Black, Indigenous, and People of Color (BIPOC), and build a community where everyone feels seen, valued, and free.
www.destinyarts.org
(510) 597-1619 x101
Executive Director: Archana Nagraj
Begin to Build a Relationship
We know you care about where your money goes and how it is used. Connect with this organization's leadership in order to begin to build this important relationship. Your email will be sent directly to this organization's Director of Development and/or Executive Director.
Destiny has given me so many opportunities to be a part of ART. Destiny has brought happiness to our community. We laughed, danced, and came together as a whole, while protesting our rights of equality and more. Destiny has just been a light to the darkness, especially for our community in this time.

Key Supporters
The William and Flora Hewlett Foundation
Crankstart
Oakland Fund for Children and Youth
Blume Foundation
Jessica Ozberker
California Arts Council
Walter & Elise Haas Fund
The Hellman Foundation
NewSchools Venture Fund
Louis L. Borick Foundation
City of Oakland Cultural Funding Program
National Endowment for the Arts
The Joseph and Vera Long Foundation
Frances Hellman and Warren Breslau Fund
Sam Mazza Foundation
Morris Stulsaft Foundation
The Betsy Gordon Foundation
George Family Foundation
Nicholson Family Foundation
Banks Family Foundation